LIFT LEAN TOTAL BODY IN Only TEN Minutes For All abilities Weights Only 40:20 warm up and cool down

Are you short on time? Lift Lean workouts are a great option for a quick and effective workout!
All you need is some basic equipment at home like a kettle bell and set of dumbbells and you can get started right away.
Try out this workout and if you LOVE it why not join my On Demand LIFT LEAN Express programme?
FEEL ENERGISED AND STRONGER IN JUST 7 DAYS!
================>>>>>>>>>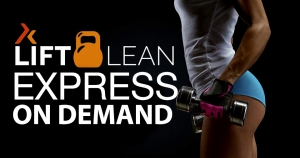 The NEW 7 Day Lift Lean Express On Demand Online

This will give you the 7 day Kick Start you need to get fitter and lose weight.
Rachel coaches you daily with an educational video explaining what to eat, goal setting, positivity and how to personalise the plan to suit your lifestyle:
• 7 Daily Lift Lean workouts – to shape your body, increase muscle tone, work on your midsection and strengthen bones and joints.
• 7 Daily Step by Step videos of weight loss. meal plans, recipes and food ideas to fit into busy lifestyles.
• 7 days of motivation and mindset.
The complete programme is ready for you to access right away.
* You don't need to be on Facebook or wait for a group to start you have access to everything right away.
Once purchased log into KickStartfatloss.net with your email and password to access your programme on the membership dashboard.
==What Weights Do You Need?
3kg – 6kg depending on your strength but you will progress really quickly so will need to go a little heavier as the weeks go by.
Kettlebell – 8kg for beginners 10/12kg Progressing and 16kg if you are really going for it.
Looped band – Buy from AMAZON….. in fact, you can get everything from Amazon and Argos.
========
Posted on