Rachel Holmes Studio LIVE Newsletter 26th September 2022
Hello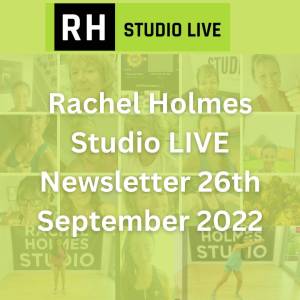 I have planned another super busy week in the Studio Live this week with daily Walkfit™ and Menofit™ plus workshops and masterclasses.
(For all existing members) Have you logged into the brand new Studio Live Members area on the website and checked all of the classes? 
Go to 
Kickstartfatloss.net/account
Log in
click membership and you will see so many classes, challenges and workshops and all the daily replays. 
Here is this weeks timetable:
In The Members Area
Daily 15 minute WALKFIT Classes 
Daily MENOFIT 15 MINUTE Classes 
Masterclasses 
Fitness Pilates With Weights
Sunday Walkfit Step Fit
Tuesdays 7 – 745 Healthy Backs and Posture Perfect on ZOOM
630 – 7 LIVE CLASSES – Available on Catch up in group and in membership area
Mon Tactical Tabata
Tues Mind Body 6 x 4
Wed Cardio Resist Triple Challenge
Thurs HIIT And MIX
Friday Legs Bums & Tums
MENOFIT TIMETABLE 15 MINUTE Classes in the Membership area
Mon MENOFIT Express Body Conditioning
Tues MENOFIT Arms, Back & Shoulders.
Wed MENOFIT Cardio Express
Thurs MENOFIT GLUTES
Friday MENOFIT Mobility
Plus
💥Daily Recipes
💥Healthy Habits & Tips
💥Check ins and accountability
💥Private Facebook group
💥All replays on your Membership area
Hope to see you on todays LIVE
Love
Rachel xxxx
PS if you membership is about to expire or it has expired you can rejoin here  would you like to upgrade to the annual membership? click here
Posted on