Who knew Kick Start Coconut Oil is also FANTASTIC for our furry friends?!
So we all know it has amazing benefits for humans… but what can it do for dogs?
Most of the coconut oil benefits come from it's antibacterial, anti-fungal properties. It also provides a fast source of fuel and energy, enhancing performance and aiding weight loss. In dogs the coconut oil can balance the thyroid, helping overweight dogs lose weight and helping your dog feel more energetic!
Research shows that coconut oil gently elevates the metabolism, provides a higher level of energy and vitality, protects you from illness, and speeds healing. As a bonus, coconut oil improves any dog's skin and coat, improves digestion, and reduces allergic reactions.
If you give coconut oil regularly to pets, it may have these multiple benefits:
Clears up skin conditions such as eczema, flea allergies and contact dermatitis
It makes their coat glossy, smooth as well as deodorising
Disinfects cuts and promotes wound healing
Improves digestion and nutrient absorption
Aids healing of digestive disorders like inflammatory bowel syndrome
Reduces or eliminates bad breath and aids in elimination of coughing
Contains powerful antibacterial, antiviral, and anti-fungal agents that prevent infection and disease
Regulates and balance insulin and promotes normal thyroid function
Helps prevent or control diabetes
Helps reduce weight, increases energy
Aids in arthritis or ligament problems
It is recommended 1/4 teaspoon for every 10 pounds of body weight twice daily for basic support, but don't go crazy as too much can result in very soft stools!
So give it a try and let us know how your doggy is benefiting from the fantastic product that is coconut oil!
Kick Start Coconut Oil is available to buy HERE.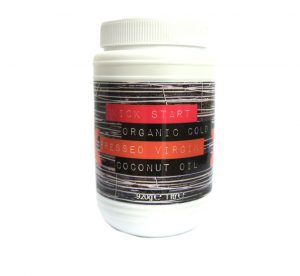 KSFL #PICWITHPETS COMPETITION!
With the launch of our new Kick Start Coconut Oil we are today launching a competition :
#PICWITHPETS
To enter simply photograph your pet with our Kick Start Coconut Oil and share it with us on social media with the hashtag #PICWITHPETS
The top 3 most inventive pics win a NEW BBQ & PARTY BOOK!
So get entering for your chance to win!
Entries close 9am Friday 9th October.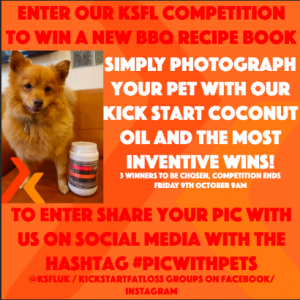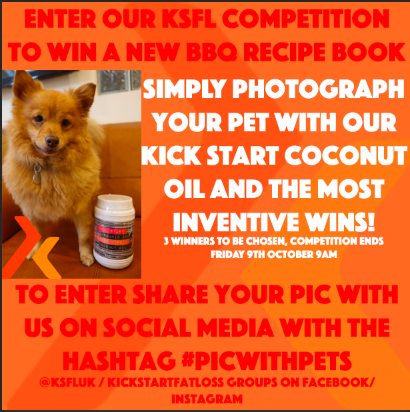 Posted on