Loren wasn't happy with her body and after getting engaged decided she needed to change her lifestyle.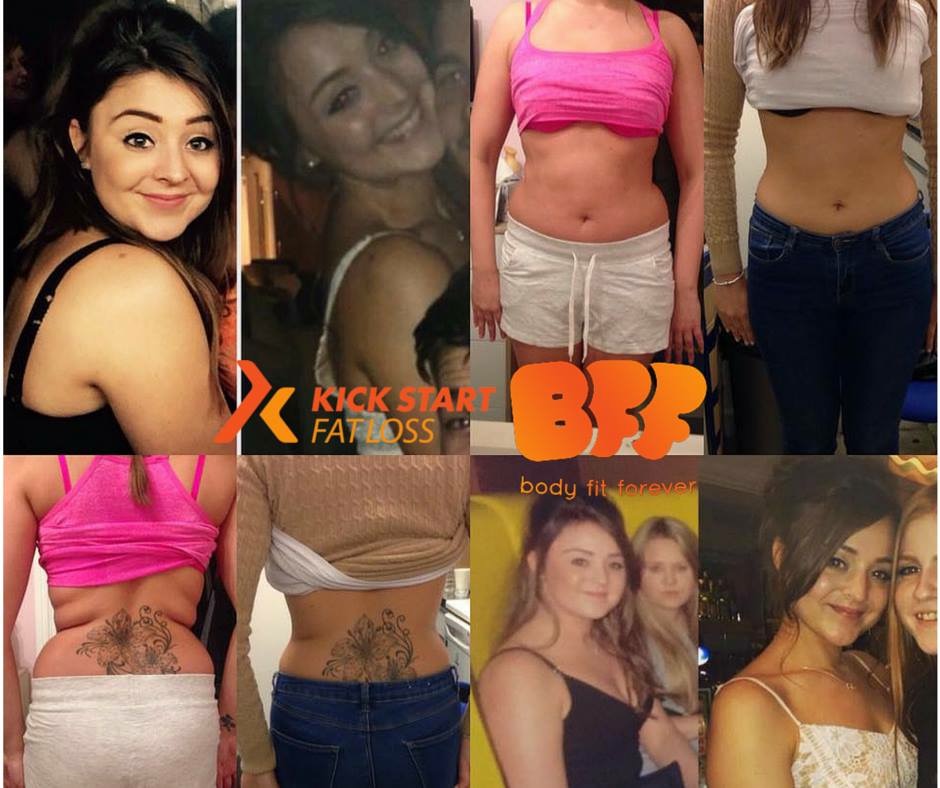 I heard about KSFL at the beginning of January, through my clubbercise instructor Paris, he was training to become a representative and mentor for KSFL.
I had been doing clubbercise for around 8 months at this time and I had finally started to enjoy exercise, it always used to be a chore but having an instructor like Paris really inspired and pushed me to go further plus he looks like Bradley Cooper which is more of a bonus ☺! When he started talking to us about KSFL I finally thought, maybe this will really work? I had tried so many things in the past, Atkins diet, Juice plus, Slimming world and nothing had ever stuck with me, I would lose weight in the first few month and then I would always just end up going back to my old ways.
I was not happy with my body in January and after getting engaged I knew I wanted to change it as well as my lifestyle, so I thought 'why not give it a go?', I planned to start KSFL along with my normal exercise classes so that I still got the fun and enjoyment from clubbercise.
At first I was sceptical, I knew I had an amazing mentor in Paris but I couldn't help but think 'this just won't work for me'. It also doesn't help when so many people say to you, 'oh yeah here we go another fad diet' sometimes even if we don't doubt something ourselves just speaking to another person can put doubts into our heads.
So I started on Thursday 28th January 2016, seeing those scales at first……I was petrified haha! Let's face it as a woman our weight is always something we think about and put ourselves down about, we are always taught to count our weight loss…god forbid we put a pound on! But as I was told by Paris, fish are for scales, the thing to focus on is how we feel and the inches we lose rather than our actual weight lost or gained. However first time round I stepped on those scales and sure enough I saw numbers that I didn't want to see but it gave me the determination to think, you can do this…you can change it…it's just you holding you back. I walked into the hall to start my first round of HIIT training….sounds scary right?! I was scared too! Stood there with a couple of the ladies I knew from clubbercise and
then found that we were stood there as a whole group, there weren't individual groups, we were all one team and we were all going to do this journey together.
Once the first session was out of the way and I was on my detox, again it was hard for those first few days, you don't realise how much food has sugar in it?! Also I was worried about the time it would take to prep all of my healthy meals, I work full time in retail so unsociable hours and a varied working week pattern. I would batch cook my healthy meals and freeze them so it made it more efficient for myself, sometimes this meant that I would repeat certain meals but for me that was not a problem as I just made my favourites! I started to realise I need to start to change my outlook, I have to remain positive and push myself.
Week by week passed and each time I stepped on the scales a little bit more was dropping off but I still did not see any changes in my physical appearance. My inches were getting smaller but I was getting frustrated as I couldn't see the results myself. So I started to focus on how I felt, I had more energy, I felt lighter and I had a more positive outlook on everything, I was a happier version of me. But one of the most amazing things that was making me happy…it wasn't just about my own weight loss, it was the groups, all of us were doing so well and there was such a sense of us working as a team, seeing everyone lose inches and weight kept me going and motivated me to push myself. Paris would always encourage us all and congratulate us no matter how big or small of an achievement we made.
But then one week I stepped on those scales and I had put a pound on….like I say as a woman we are always programmed to think this is awful and therefore we aren't achieving and we've done something wrong, I tried to laugh it off and even thought 'well seeing as I've put a pound on I may as well just go home tonight and eat what I want, McDonalds it is!'. I went home after the class and I won't lie when I tell you that I felt disappointed in myself, those little voices came into my head to almost tell me 'see it wouldn't work, just give up now and eat what you want' . I woke up in the morning and remembered something Paris had told me, when you wake up before you rush to get up just lay there and think about all the amazing things you have going on in your life. So I did. We are so lucky and sometimes we don't take the time to praise ourselves or congratulate ourselves for all of our achievements whether it be big or small. If we think negative then negative things will happen, we have to remain positive and remember that the only person in our way is ourselves. So I put on a pound? So what? Does that mean I'm going to throw it all away just because of that one pound…..I don't think so! Old Loren may have done that but I felt like a new person, my mind set had changed and I wasn't going to drag myself down about it. So back on the horse as they say! Here's to a fresh new week!
I kept going and sure enough week after week I have seen more losses whether it be weight, inches, whatever! I'm losing weight and I can start to not only feel changes but I can see them too! When I first started KSFL, it was because I HAD to I wasn't happy about my weight and I was doing it to lose weight and feel better. Now I do KSFL because I WANT to, I like the better version of me and I feel like a completely different person. I am a more positive person and believe it or not it really has also affected my own personal life in terms of positivity. I've changed my life for the better and the support group I have behind me have helped me get there, we build each other up rather than tear each other down, supporting each other through all the ups and downs we will all come up against at some point or another.
I have to give Paris a special mention as I've never really told him how much he has changed my life. Paris has motivated me from the very beginning and seeing him so proud of us all just makes me want to keep making him proud. Without his support and hard work I wouldn't be where I am today. I can't wait to carry on my journey with him. He is an amazing person and he inspires me to be the best version of me, not only my mentor but my friend and no amount of words can thank him or praise him enough for all that he has done for me.
KSFL you've taught me so many things but one thing for sure is the following:
'Losing weight is a mind game, change your mind and you'll change your body'
Thanks for changing my outlook on life KSFL, Paris and the crew x
Wow what a story, thanks for sharing your journey Loren and Paris, it is great to hear the good work!
Posted on