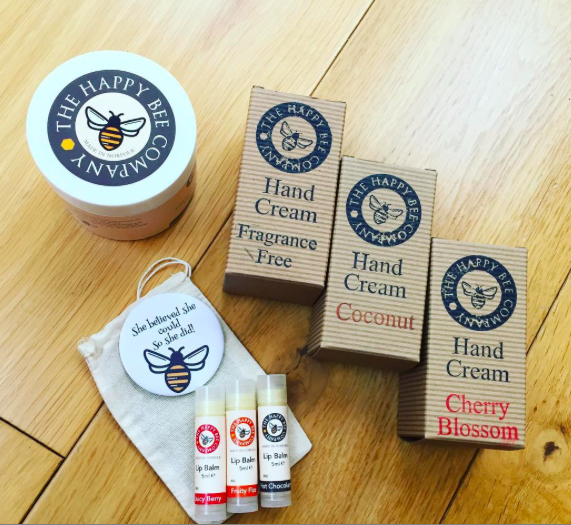 This week I received a beautiful collection of beauty products from Sally at The Happy Bee Company; a small business in Norfolk producing natural products from their well looked after bees!

I love this sort of little local business producing really good quality and natural products so I was so excited to try these out…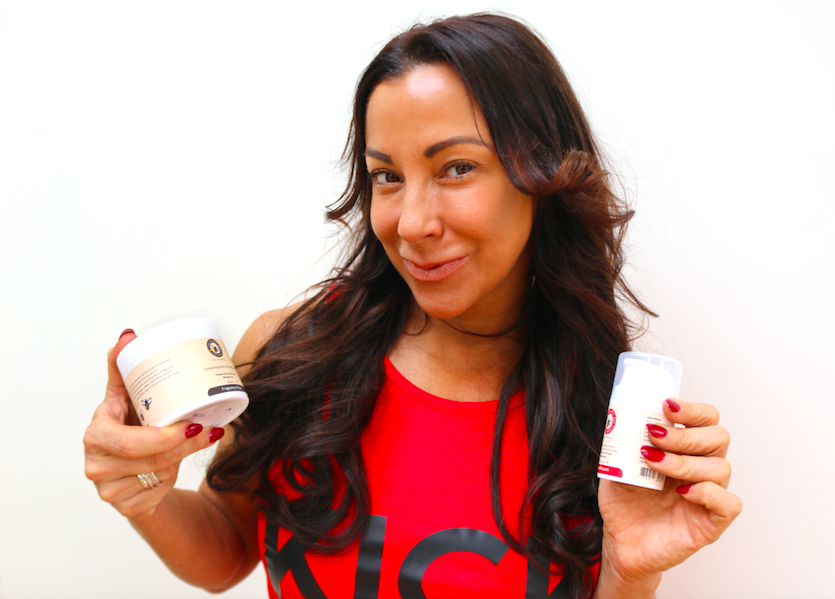 Hand and Nail cream
Happy Bee Company's Natural Hand and Nail Cream  is priced at £12.50 for 50ml- available in other fragrances
The ingredients: "Our cream uses beeswax and raw honey (full of naturally occurring pollen, propolis, enzymes and vitamins) as well as a blend of natural oils designed to offer an instant fix of hydration and then to continue working throughout the day – saving the need to 'top up' as often – a little goes a long way."
Cherry Blossom had a gentle fragrance and smoothed on really nicely. It was not too thick or greasy and made my hands feel lovely. This is a great product from anyone suffering with allergies such as myself as it is allergen free and I was absolutely fine with it. I read it was actually fine to use on your face and body too.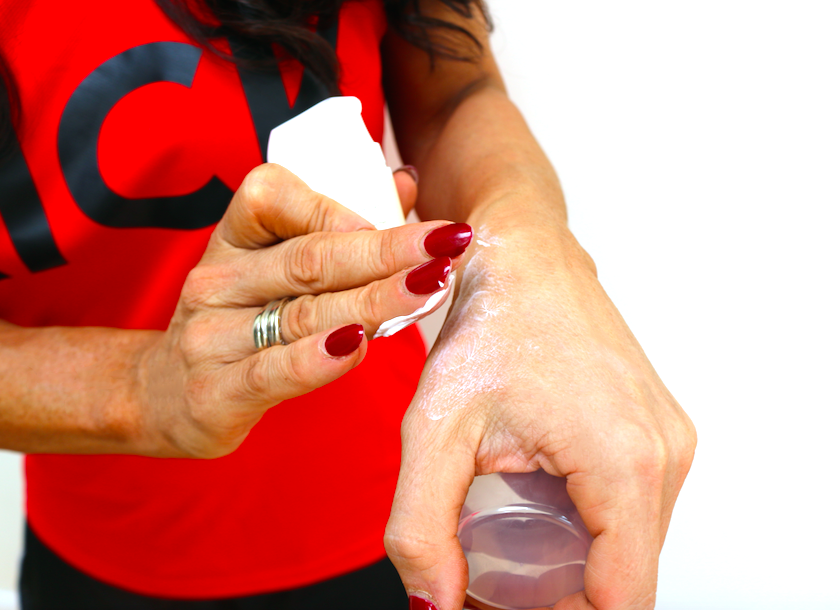 The coconut had a stronger more summery fragrance, a little too sweet for me, great for anyone who likes a delicious smelling cream! The pump was really easy to use and the cap meant I could store it in my hand bag without any accidents. As it is in a 50ml this would be great to take away on holiday in your hand luggage.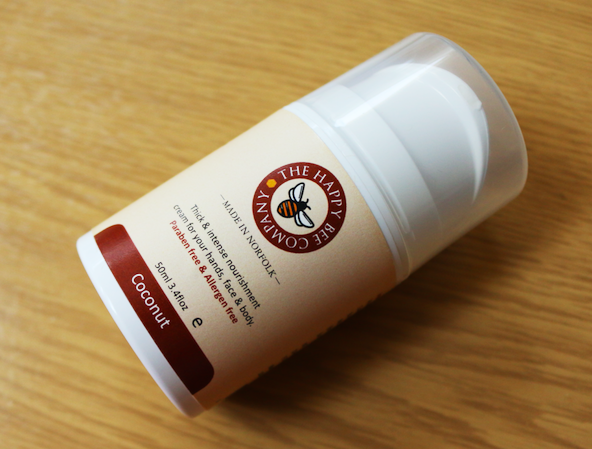 Finally I used the fragrant free moisturiser… this one was just as good as the others without the fragrance and great for anyone who is not too keen on the sweet smelling creams! I get quite dry skin on my hands and I found this helped, I found it best used at night before bed so it had time to soak in and really ease my dry skin.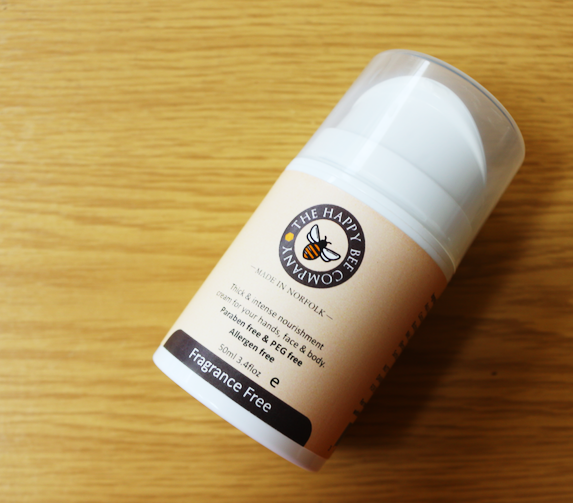 NEXT UP….
Salt Scrub!
Happy Bee Company's Salt Scrub is £14.50 for 200g -available in other fragrances.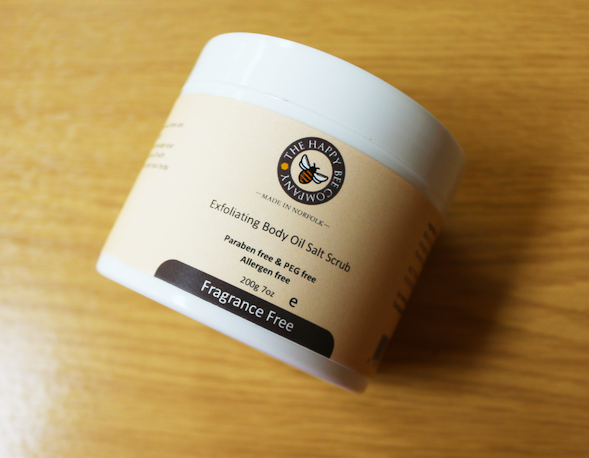 The scrub comes in a lovely big pot which is great as I found I did need to put quite a bit on at a time. The scrub contains a combination of beeswax and oils to smooth skin and leave you feeling really fresh. I used it in the shower then once I dried off I was lovely and smooth. I would definitely recommend this for pampering sessions as it makes you feel lovely!
Lip Balm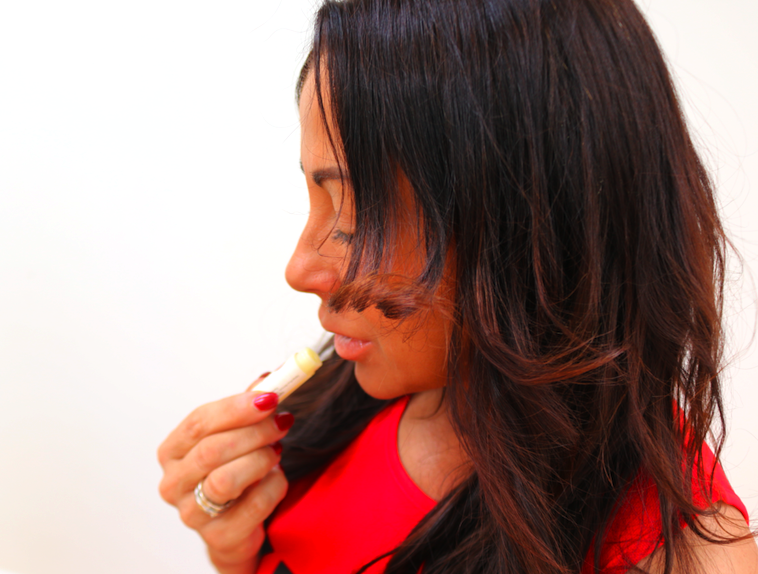 Set of 3 Lip Balms in Hot chocolate, Juicy Berry and Fruity Fizz priced at £3.50 each – available in other fragrances.
These smelt DELICIOUS I wanted to eat them! My favourite definitely being the Fruity Fizz! I found them a little greasy when first applied but after 10 minutes it had soaked in and my lips felt lovely and soft. These are perfect for the handbag or would make a lovely present available in a gift set.
Mirror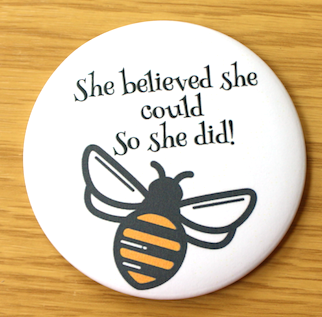 "She believed she could…handbag mirror and bag" Priced at £6.00
I think a case may have worked better for this as I can imagine scratching this in my handbag but this cute little mirror is great for a gift and does come with a little tie up bag to store it away.
Overall I was really pleased with the quality of the products and the packaging was so simple and appealing which means they would look great as a gift. My favourite product had to be the scrub it made me feel so lovely!
Thanks so much to Sally and her bees for letting me try out these products I would thoroughly recommend The Happy Bee Company and will continue to use these delicious products!
Posted on