When I say "Brussel Sprouts" does it make you think UGH?!
For a lot of people these green veg don't have the best reputation… but today I am going to tell you why you SHOULD be eating them for your health!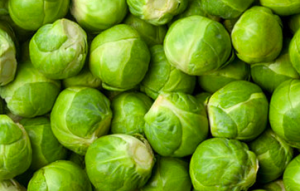 So what is so good about brussels?
•They are high in vitamin C with just one serving meeting your needs for the day; improving eye health and anti ageing!
•They are also high in vitamin K; improving bone health.
•Also providing vitamin A, vitamin B-6, folate, potassium and manganese.
•The sulforaphane in green leafy veg like brussels is said to have cancer fighting power!
Some ways to make Brussels exciting:
•Oven-roasting Brussels sprouts brings out their sweet, almost nutty flavor and keeps them crisp! Add a little bacon for a yummy twist.
• Add them into stews- you won't even notice them there!
Other vegetables you should be eating:
Brussels sprouts are a part of the cruciferous vegetable family, which also includes kale, broccoli, cauliflower, cabbage and collard greens, all of which supply loads of nutrients with less calories.
These are real SUPER veg!
Catch my new show for more health and wellness news and EXCLUSIVE interviews

Posted on