Fancy Burger and Chips Kick Start Fat Loss styleeeee?!
Kick Start Family Food 🙂
We really try and make an effort to create
"family food" that is easy and simple to
create without any frills and above all super healthy.
With the kids off school this week here
is a FANTASTIC tasty meal idea that may be perfect
for tea tonight or tomorrow….?
What do you think?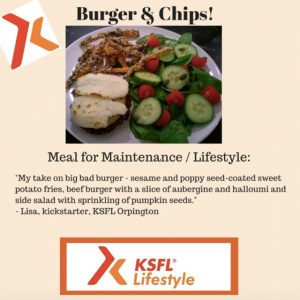 Big Thanks to The Orpington Kick Starters for the
yummy "Family Food" Ideas.
Did you see the Rachel Holmes Lifestyle show on
Youtube ? Click here to watch & subscribe
This week will be an interview with the wonderful Zoe Mcnulty talking body confidence!
Catch my LIVE HIIT morning workout 
on Facebook.com/Kickstartfatloss
Happy Healthy Wednesday!
Posted on