There is nothing better than a warm drink on a cold day. Hot drinks don't have to be full of sugar and milk though we can use them as a healthy start to the day offering the body tonnes of nutrients and promoting a healthy gut.
Ditch the sugary seasonal drinks for these warm and cosy inflammation fighting treats!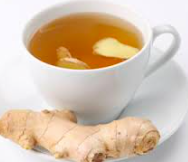 Ginger Tea
Ingredients
4-6 thin slices raw ginger (or more, depending on how strong you want it!)
1 1/2 – 2 cups water
Juice from 1/2 lime
1-2 tbsp honey or to taste  (optional)
Method
Peel the ginger and slice thinly to maximize the surface area. Boil the ginger in water for at least 10 minutes. For a stronger tea, allow to boil for 20 minutes or more, and use more slices of ginger.  Remove from heat and add lime juice and honey to taste.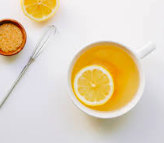 Lemon Loveliness
Ingredients
Juice of 1⁄2 lemon
1 cup hot water
Method
Add juice from lemon to hot water & drink… simple!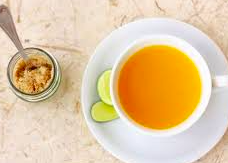 Turbo Turmeric Tea
Ingredients
2 cups of milk  (almond, pecan or coconut)
1 teaspoon Turmeric
½ teaspoon Cinnamon
1 teaspoon raw honey
Pinch of black pepper
Tiny piece of fresh, peeled ginger root or ¼ tsp ginger powder
Pinch of cayenne pepper (optional)
Method
First, blend all ingredients in a high speed blender until smooth.
Then, Pour into a small sauce pan and heat for 3-5 minutes over medium heat until hot but not boiling.
Drink immediately
I hope you enjoy these, please let use know if you try them out on our social media:
Posted on