Are you Stressed?
Stress may be affecting your weight loss and health and NOW is time to take action.
STARTING with these tips to start reducing your stress today: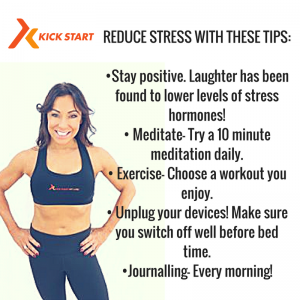 Is it time to take hold of your stress and manage it?
If you are stressed then cortisol is being pumped through the body at an alarming rate.
Cortisol = Mid section weight gain = Feeling unhappy and negative = negative mindset = poor food choices = feeling lethargic & demotivated = mad at yourself & the world around you…and on it goes.
So let's break the cycle.
For 14 days you will join my Facebook Elite group where you will get access to:
14 daily workouts of Fitness Pilates, The Brainfit Workout™ & Flow Stretch Sequences.
Plus
Meditation audios
14 Day meal plan and nourishing food ideas.
Daily Live chats and coaching with me.
Journalling and miracle morning routines.
It's a simple programme that won't overwhelm you
just join in and take part for 14 days STARTING TODAY!
CLICK HERE TO JOIN
The Cost For 14 Days is £37
Posted on