I don't know if you have all seen or heard about The Kick Start fat loss programmes I run? My names Sarah hogan and I run The Fitness movement in Lincoln.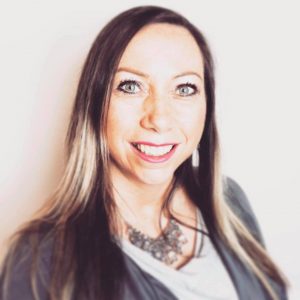 My ladies have been getting the most incredible results not only through the change in their bodies but their health and happiness too. I'd like to share a few testimonials with you.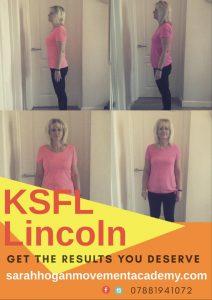 " 12lbs lost in total , 10 inches lost since starting in March ! Yes ! Love how KSFL is helping me ! I had body mass, blood pressure, cholesterol and blood glucose checked today all great results, I'm so pleased 
 Can you believe my metabolic age came out as 39 ! Ive just turned 55 , my visceral fat is 6, if that means anything to anyone ! Thank you so much Sarah Hogan for everything "
– Julie Treadwell Lincoln KSFL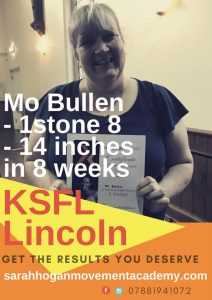 "Eight weeks ago I wasn't sure I could do it. It really isn't easy walking into a group of people and always being the largest – let alone attempting to do exercise. Thank you to Sarah for all your support, energy and guidance. Thank you to the group for making me feel welcome not judged. 

I am now 22lbs lighter and 14 inches small. 

Time to join VIP club ?"
– Mo Bullen KSFL Lincoln"
"Morning ladies since wk 1 lost 8 lbs and 9 inches, but most of all feel so much better, sleeping well, stomach not feeling so bloated, feel fitter and have more energy I look forward to the exercise which is not normally for me. Thank you to Sarah for all the positive encouragement and a great bunch of ladies, looking forward to VIP xxx " 
– Judy Lyons KSFL Lincoln
"Calling all lincoln ladies!!!! I've paid thousands of pounds in gym memberships since we moved to lincoln over 14 years ago at various different clubs. The last year while being pregnant is the only time I've not had gym membership and it made me a bit on edge cancelling it at the time I have to admit. All the gyms always appeared to be all singing and dancing. However each one has left me feeling disappointed, my motivation and confidence knocked by the 'gym bunny, unfriendly, orange girls'. I recently came across the amazing Sarah Hogan and her movement academy. I can honestly say it's been amazing. The classes have been fun but challenging, the other ladies are actually friendly and supportive and Sarah is a great motivator and support. This is the new timetable and membership options she has please take a look and support her. I've just completed an 8 week kick start fat loss program which has been great. It's all based on real food and exercise no quick fixes or stupid supplements just taking things back to basics with no pressure to do anything but your best efforts whatever your circumstances. I've also taken the fitness pilates class which have been great too helping me to get my strength back on track with Sarah providing expert advice for modifications to any exercise I'm not yet ready for something I doubt some of the other gym classes would have the time or ability to provide. Please have a look if you are looking for something new and positive. Cx"
-Claire Smith Lincoln KSFL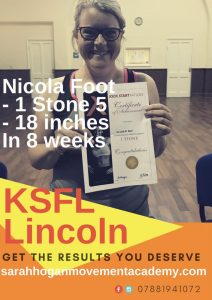 I can't put all the lovely words and pictures in this blog as there's not enough room! 
 I'm totally overwhelmed with the amount of wonderful results we've had!
I'm looking forward to our next KSFL 14 Super Summer Sprinter it's going to be amazing.
Posted on