Jackie Owen joined Kick Start Stockport in April 2017 and has achieved fabulous results on the programme.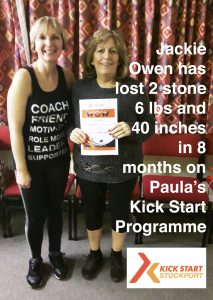 When Jackie came to see me at my home for a personal consultation I remember seeing a lady who was emotional, wasn't sure if she would be able to follow the programme and lacked confidence but was very determined to lose weight. It was about getting her into the right mind-set and for her to start believing in herself.  In the first 6 weeks of the 12 week programme Jackie lost 11 lbs and 17 inches. BOOM I started to see this lady blossom. As well as following the programme Jackie was attending two fitness classes a week to become fitter and healthier.
"When I started Kick Start I thought it would be incredibly hard, especially no alcohol for 4 weeks. Amazingly however, not only have I found the eating plan incredibly easy, giving up the old vino has not been an issue. Since starting the plan I have never once felt hungry and have had no cravings.
I am feeling fantastic, bursting with energy and feel in control for the first time in years.

Once the 12 week programme had finished Jackie had lost 1 st
one 7 lbs and 25 inches and commented "she felt fantastic, bundles of energy and a much more positive outlook on life. This has been a life changing experience for me. This is not a diet (and believe me I've done them all) but a lifestyle change". 
Jackie continued with Kick Start and after 8 months has lost 2 stone 6 lbs and 40 inches and this is what she had to say.  "When I started Kick Start one of my goals, apart from weight loss, was to reduce my medication for chronic reflux and cholesterol.  After 8 months on the plan my GP has agreed to take me off my medication completely. Fantastic. I have had to buy new clothes due to my drop in dress size and I can actually remove my wedding ring and I have not been able to do this for 20 years. Don't ever give up what you are doing Paula. You have changed my life. Thank you, thank you, thank you. "
For press enquiries contact lauren@ksflgroup.com
Posted on