The sunny weather is here and days are getting warmer which means the gym isn't always the nicest place to workout!
With a little creativity you can take your workout outdoors and enjoy the gorgeous weather… while it lasts!!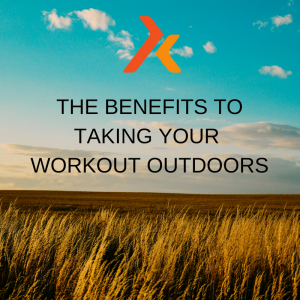 Here are 6 benefits to working out outdoors:
1. Exercising outdoors can be more challenging therefore working your body harder!
Walking, hiking or running on terrain that is constantly changing teaches the body how to adapt to a changing environment. In addition, a constantly changing surface can enhance the strength of your connective tissue, which may help you avoid certain injuries.
2. Wind resistance can help you burn more calories.
A strong headwind can help you burn more calories, as you have to work harder to overcome the resistance.
3. Exercising outdoors is cheaper!
There are many benefits of going to a gym or fitness studio, but if you need to manage your expenses, exercising outdoors is one option to save a few pennies.
4. It is a more social way to workout.
While exercise can enhance your physical health, being connected with your community and having a number of positive relationships can help improve your mental health as well. Put your phone down or close your laptop and go outside and move around in your community to enhance your real-life social network.
5. Make a normal day to day chore or activity a workout.
Taking your kids to the park? Use the apparatus as a gym- or why not walk them to school instead.
6. Outdoor exercise provides greater benefits than sweating indoors.
Studies show working out can increase energy levels and decrease stress so there is even more reason to workout outdoors!
So, the next time it's an absolutely gorgeous day outside and you're dreading being stuck in a dark gym, take your workout outside!
Posted on