Kick Start NEW Newsletter 
Hi Are you all set for the week ahead?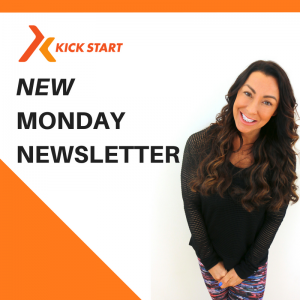 Here is a workout for you to Kick Start your Monday.
Set your alarm 30 minutes earlier than normal as soon as it wakes you up tomorrow……………
Don't ponder.
Don't dwell.
Don't start scrolling.
54321 and GO.
Pull on your kit and get cracking with this workout. Then that's it.
You have done it and you have got off to a fantastic start.
If you ponder about getting up for too long your brain will talk you out of it and the time will pass and you won't fit in your workout.
By working out first thing it will put you in a great mood. You will feel happy and  be able to deal with all of MONDAYS stress so much easier.
So, tonight get your workout gear ready by the side of your bed.
Get your water ready, have an early night and remember………
54321 – The 5 Second Rule.
Use this principle in all aspects of your health and fitness goals.
Just about to start mindless evening snacking on rubbish food?
STOP.
54321 and do something else.
Go for a walk. Go into another room. DISRUPT the pattern and do something else.
Start this week on a HEALTHY kick.
Start NOW!
I hope this helps.
Have a great day
Love Rachel x
***Want To Join A Structured Programme With Daily Coaching From Me**
The New Lift Lean 5:2 Starts Today the group is open and we are getting ready and prepped. It's a 21 day with daily coaching. workouts and a real world diet plan.
Posted on