Almond & Orange Cake
Created by KSFL Business owner Mairi Taylor
Perfect for an April Springtime treat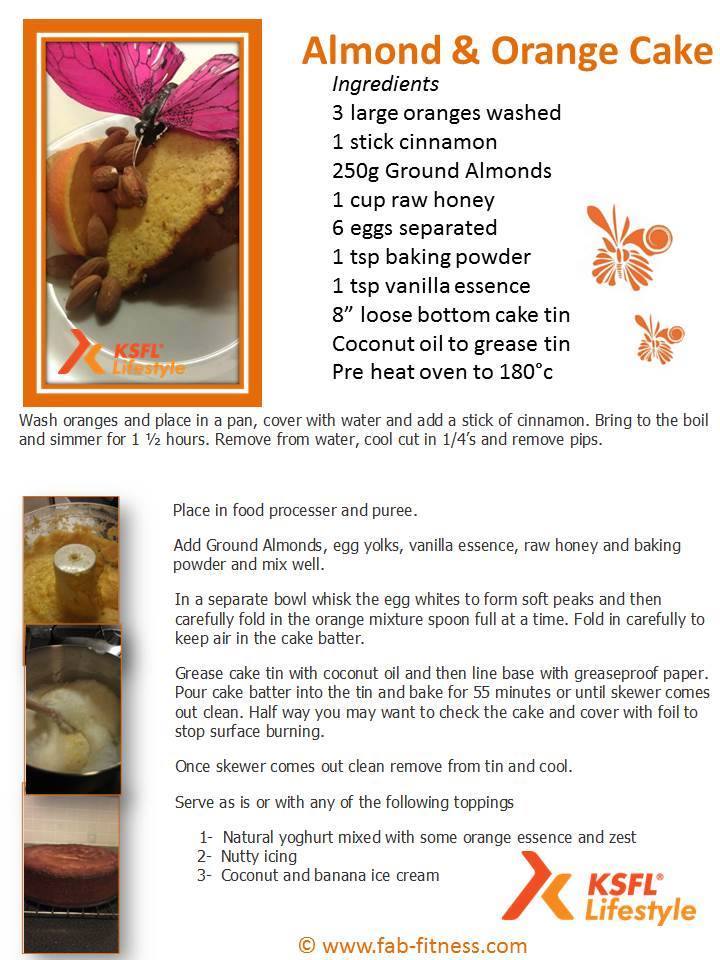 There is nothing better then home baked clean cakes & luscious clean healthy food for the whole family. Our KSFL friendly recipes are so simple to make & can easily be adapted with your favorite ingredients.
As its the 1st April lets do something creative today.
Be expressive and use your imagination. No matter
how busy & how many deadlines you have take
a jot of time & let your creative juices flow.
If you are looking for inspiration, or
help finding a solution take an hour out today
& go for it.
It's just like when you work out or go for a run.
You know you will feel amazing afterwards.
Solutions, ideas, answers, business plans,
all come together when you do something physical
or creative.
It's like hotwiring your brain. You will feel happy,
energised & calm
I'm going to make this yummy Almond & Orange Cake
this afternoon – I'll post a picture later!
What are YOU going to do to get creative today?
"Today I feel creative & inspired"  A simple affirmation
to take you through 1st April.
Have a great Tuesday!
Love Always
Rachel xxx
PLEASE Tweet me & let me know what you create today @RachelHolmes
Add your email for up to the minute info on KSFL diet & detox, Juicing,
Fatloss tips, Home Workouts,
Positive Self
Love, Affirmations & Happy Lifestyle
Updates
Posted on