57 year old Monika loses 3½  stone and 44 inches, going from a size 16 to a size 10 and has now become a fitness role model teaching Zumba, KSFL & Fitness Pilates.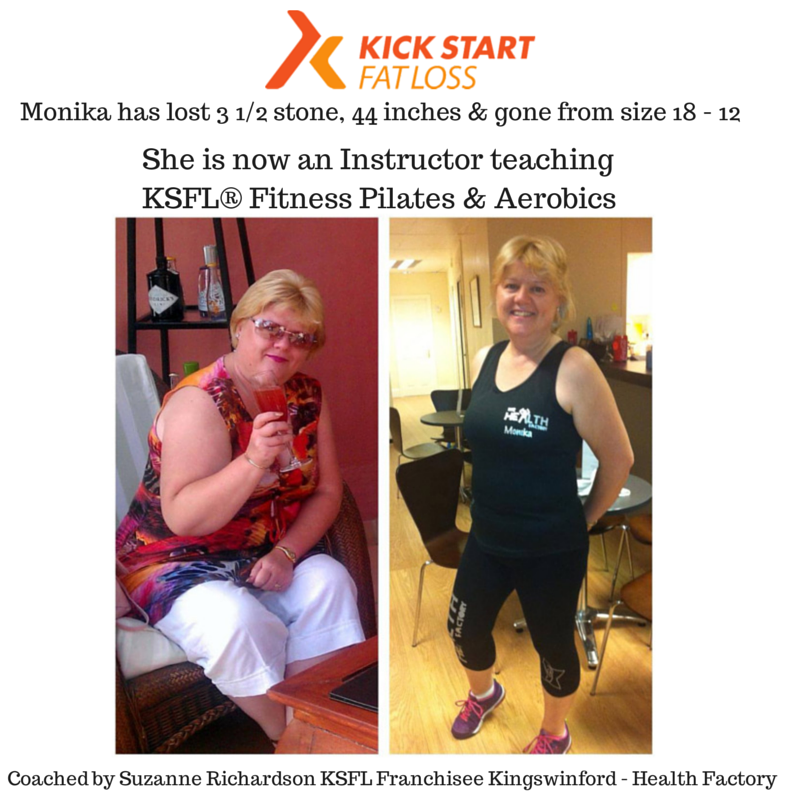 Monika Archer from Kingswinford had tried every single diet going from the Cabbage soup diet to the Cambridge Diet.  Some had worked in the short term but Monika always
ended up piling it back on and more besides.
"I totally loved carby foods and dairy has always been my weakness. I was a terrible picker especially when preparing food, I would be sampling everything, plus I was a huge comfort eater, if I was happy or sad or stressed or anything really I would reach for food."
The real turning point for Monika was having to go on blood pressure tablets, and having a history of diabetes in the family she knew she would be heading the same way if she didn't do something about her weight.
Monika attended Zumba classes with Suzanne Richardson and had seen the transformation Suzanne had made to her own body since doing Kick Start Fat Loss. Suzanne became the KSFL franchisee & started classes locally, so Monika joined up.
"The ethos behind KSFL eating is everything I've always believed in anyway as regards eating home cooked meals, and I knew long term this was the most up to date nutrition and HIIT training classes."
She began losing inches straight away.
Now Monika's typical diet consists of soup for breakfast or eggs, tomatoes, mushrooms; a massive salad and salmon for lunch and chicken, veg and more salad for supper.
Due to Monika's amazing success and her wanting to help others achieve health and happiness Monika  has trained to become a Kick Start Fat Loss leader and is also an aerobics  and Fitness Pilates Instructor at The Health Factory in Kingswinford.
Clients love Monika's classes as she really has "been there".
"Because I have struggled with my weight & health in the past I really can empathise with how so many people think and feel and I just love helping other people achieve their goals. It's the best job in the world and I've never been happier" said Monika.
"I feel incredible, fit, strong, confident and so much younger."
Monika is keen to keep spreading the KSFL message and to help as many people as she can.
"My 2 grown up kids are very proud, my daughter and future daughter-in-law won't do my aerobics class because they think I'll kill them, and my husband is also proud and happy that my health has improved immensely."
Posted on