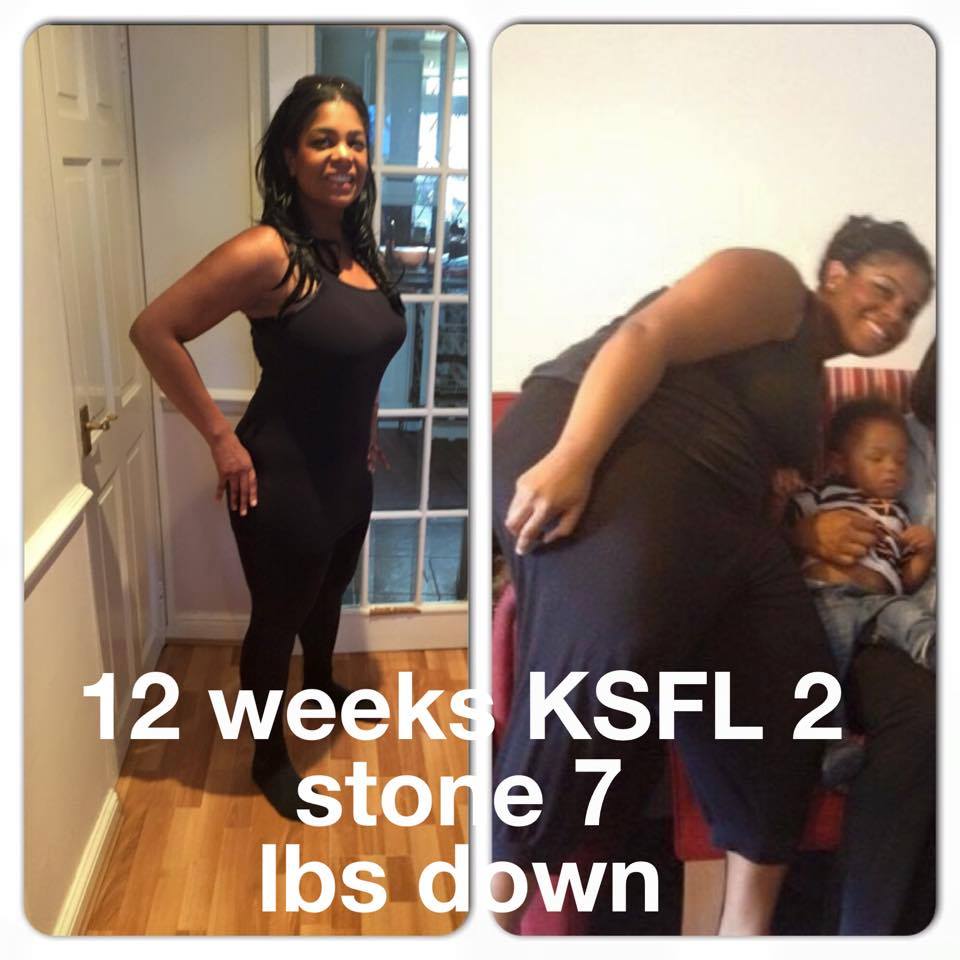 "Esther's Kick Start Fat Loss Online group provided the support
I needed to loose weight"
Esther's Kick Start Fat Loss online group provided the support Louise required and she has lost 2 stone in just 12 weeks.
Louise 30, a Nursery Manager is married and has a 2 year old, so already has an active life but after giving birth she stopped attending Esther's fitness classes and began to pile on the pounds.
Louise's diet consisted of high sugar and carbs, which resulted in her reaching her highest weight and after the realization hit; she decided she was going to turn her life around.
Louisewas looking forward to turning 30 although; she was not comfortable with her weight. She decided enough was enough and that she was going to make a change.
 "After the Christmas period I stepped on the scales and was shocked, I was the heaviest I have ever been."
"My daily diet would consist of a high sugary breakfast of cereal, Lunch was sandwich with a bag of crisps and a chocolate bar.  Plenty of snacks like biscuits, cakes and chocolate. Dinner would be full of carb fest with chicken and rice and weekends would be 'treat' meals including takeaways and lots of desserts"
" I felt tired all the time and so sluggish."
Before giving birth, Louise attended Esther's exercise and nutritional classes although, stopped attending and her daily routine was filled with a diet full of unhealthy treats and there was no way for her to loose the weight in her situation.
"I have attended Esther's exercise and nutritional classes before I had my son. They were always so much fun and motivating and Esther is a real inspiration and provides good support."
Being at home with her baby, Louise signed up to the Take Control Facebook Group in January 2015 to meet other people in the same situation and help her get some advice and guidance.
"I found it to be very encouraging. It's a good support network and seeing other people lose weight is so inspiring and keeps you on track."
Joining the group encouraged confidence and ambition and Louise began to turn her life around.
Her daily diet now consists of a high protein breakfast of poached eggs, Lunch is a salad with chicken or fish and Dinner is Salmon or Lamb with plenty of vegetables. She also drinks lots of water and herbal teas.
In just 12 weeks she has already seen a transformation and with dedication and support from the online group, has lost 2 stone and 7 pounds.
"I feel amazing! Having lost the weight I now have more energy. My skin is in good condition and my clothes are much looser which has given me so much more confidence!"
Louise had a full Health Assessment with Esther and since this her BMI, glucose levels and body fat have all decreased altering her appearance and narrowing her waistline.
"My family and friends have really noticed a difference and said I have done so well and I am going to carry on"
ESther Shortt teaches KSFL in North London and runs online KSFL courses for anyone
^^^^^^^^^^^^^^^^^^^^^^^^^^^^^^^^^^^^^^^^^^^^^^^^^^^^^^^^^^^^^^^^^^^^^
Join KickStartFatLoss.net  today sign up for our free newsletter click here 
Posted on