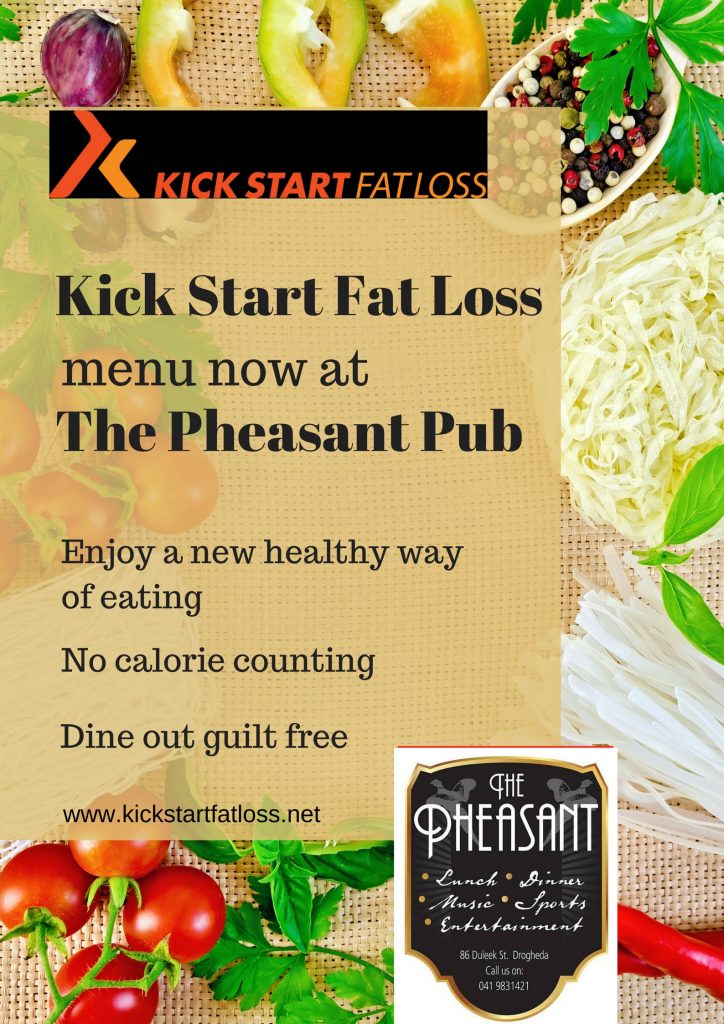 You are trying to lose weight but your friends have invited you to the pub – queue panic mode! Kick Start Fat Loss (KSFL) have teamed up with the Pheasant Pub in County Louth Ireland where customers can now enjoy healthy delicious dishes and still shed the pounds.
We spoke to Tanya O'connor, Head Chef at the Pheasant pub and this is what she had to say.
I first heard about the Kick Start Fat Loss (KSFL) plan on Facebook . I got in contact with the local KSFL franchisee Laura Armada – Buch to see if there was anything we could do to help promote the plan as her clients were struggling when it came to dining out. My menu at the moment is a variety of pub grub. It has the usual suspects on it (burgers, steak, pasta, fish)  and then it has a few different things such as spicy dishes for the more adventurous type. 70% of my menu is gluten free and I try to work with gluten free products as much as possible.  I love and fully support the KSFL menu and I feel there is a definite need for it, especially with the growing concern of obesity. I'm glad that we at the Pheasant are doing our bit to help.
I have created the KSFL menu based on the books that I have read. I love the way it's not heavy on your tummy and how tasty it is. I would say 80% of our lunch customers and 50% of our evening customers have tried the KSFL menu and we have had great feedback. Word of mouth is starting to spread and even the gym I attend advertises the menu.
The great thing about the KSFL menu is the reassurance you get – you can relax and sit down to a selection of good food choices that are healthy and tasty without any mention of calories.
Some of my personal favourites off the KSFL menu are the lasagne, the Beef oriental stir-fry, the Chicken kebabs, Broccoli soup and the coconut and blueberry muffins. I enjoy mixing the spices and herbs to create unusual tastes for stir fries.
I do think that more establishments should be doing something like this. There are a lot of people out there that like to eat out and are always getting the likes of steak and salad as there is no other option. This way you get variety,  a 3 course meal just like everyone else and not begrudge your company that burger you want a bite of. Now you can have one of your own – guilt free.
I enjoy cooking clean healthy food and I eat from this menu most days myself.  The response we've had has been so positive and both regular and new customers love the menu. I strongly encourage more establishments to implement the Kick Start Fat Loss lifestyle. It's made such a positive impact for our customers and for our business too.
For more information on the Kick Start Fat Loss Plan and how you can incorporate it in your establishment visit the website www.kickstartfatloss.net
Posted on