The KSFL Family is always busy with new exciting projects so we want to share with you all the news from the week:
Josie Tait KSFL Wigan
2x more weigh and measure days for my challengers… We have ramped things up with an ab challenge week. New ab workout in our group every day and they have to post a pic to prove they've done it!
Chris Tuck KSFL West Wickham
New 6 KSFL Club members started this week. One lady has been 'thinking' about it since Jan and has now had the courage to walk through the door to get help and support.
Have seen this a few times now where members have suffered from low self esteem and at the end of a 6 week Club have transformed and are proud of who they are!
Vicky Martin KSFL Stroud
I have started the KSFL two week detox on Wednesday with a view to rolling it out to my current clients the two weeks before the summer hols as a 'KSFL Pre Summer Holiday Shred'. This will essentially be a 'soft launch' before the big launch in September.
I am making myself accountable to my current clients through blogs charting my progress and how I am feeling / getting on with it. Also posting before and after photos in our private support group…
To my delight they are massively engaged in this which is fab. Really interested to see my progress and also really keen to try it themselves … Watch this space ?
Suzanne Richardson KSFL Kingswinford
I've taken on more 1-2-1 clients for PT and KSFL combined, tweaking for them and helping their health improve !
Heather Pring KSFL West Somerset
A busy week in the gym , with lots of new workouts bringing in Tabata to get the heart rate elevated.
This week my platinum package all had huge losses and have gained in so much confidence that they accessed extra gym sessions , this is a huge achievement as some of them have not exercised for years .
I currently getting ready to run my next 4 week block package starting the 13 th June , 2 places have already been filled.
Online coaching is one of my favourite times of the week and my currant client has reached her 2 stone mark in 2 months !
I am fortunate that my children have a fantastic Brownie Pack and to say thankyou I do an activity night once a term , last night we worked out the best snacks to make a lunch box using food they had all brought in , we followed this up with a mini HIIT workout and Stretch session at the end , all good fun !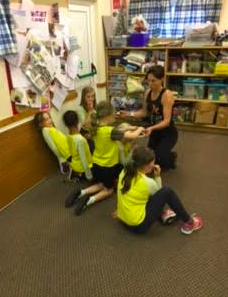 Sindy Matthews KSFL Banbury
Free food tasting evening at Naomi's Cafe in Banbury. It was rammed. Lots of interest and book sales. Mum was of course the hereo chef and everyone LOVED her food. I'm so lucky!!! Two of the KSFL Banbury members spoke and one of them has offered to write her story and share with you. It's quite a moving story as she has really suffered with mental health – but is now ready to share her story. She read it to me yesterday and had me in tears!
Samantha Quirk KSFL Jersey
Been working hard with the states of Jersey to get a plan in place to help their type 2 diabetic patients!
Sallie-anne Sadler KSFL Norwich
Preparing the launch of my KSFL Challenge in June .. 4 weeks , 4 different classes and more personalised nutrition approach.. EXCLUSIVE …. PLUS .. My FREE Online KSFL 5 Day cleanse is kicking off Monday.
Nicola Carless KSFL Bromsgrove
4 new Personal Training Clients started their weight loss and fitness journey with me this week. They are doing KSFL as part of their programme. I am excited for them as I know they are going to get fantastic results with the programme I have put together for them all! I love helping people become happier and healthier and more confident. I have 5 clients on the 14 day Toned In Ten programme which started Monday so I am looking forward to seeing their results at the end of next week. I've also just had a brilliant coaching call with Kelly Reed-Banks who has helped me become clearer about some aspects of my business and the brand new KSFL programmes that I will be launching at The Studio in September. Exciting times ahead smile emoticon
Danni Evans KSFL Ellesmere
This week has seen a bit of a turning point for many in my Online KSFL group, lots of camaraderie and a fantastic game of word association going on for near 400 posts – keeping everybody communicating and involved. After starting to film some of our training we got feed back that it was inspiring so some members of the group have started to do a live Facebook posts in the group after a workout to keep them accountable and it is so nice to see and hear people! On a personal note training is going great and we are ready for the Superhuman Games in Bristol next week and looking to qualify for the live rounds of the online Crossfit competitons we have been doing – a very successful week all round!
Jane Cole KSFL Kings Lynn 
I am very busy teaching classes evening, pole workshops and preparing for sports therapy course!
Posted on