This year is FINALLY the year people are really starting to take their health seriously, and it shows in this years trends to come: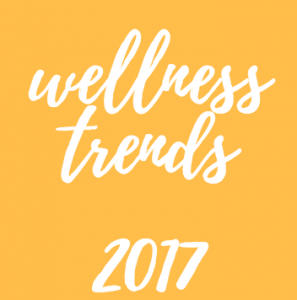 Inflammation fighting foods – Inflammation is the link to disease and many health problems so it isn't a surprise that this information is finally mainstream.
Athleisure- Finally comfort is key with sports style trends hitting workplace fashion.. I wouldn't start wearing your neon patterned leggings to work though!
Retreats are to boom- Retreat bookings will be at an all time high with so much more choice than ever before.
Plant protein- The boom in almond milk is just one of the reasons we know plant based products are becoming more popular, with more choice than ever this is great news for our health.
Nights in are the NEW going out- FINALLY we don't feel forced to go out drinking with peer pressure to eat all that terrible food, we can have a night in with good food and not feel bad 🙂
Health tonics- Healthy drink mixes are the new thing; turmeric tea, smoothies and juices.
Less make-up and more natural- People are wearing less make up and going for a more natural feel with barely there make up.
Social sobering- Finally more people are ditching sugary alcoholic drinks and swapping for a healthy lifestyle.
Going organic- People are starting to read labels more and learn the importance of what is in their beauty products and food too.
HIIT training- HIIT training has really caught on as the best way to exercise to lose weight and with a busy schedule.
Posted on