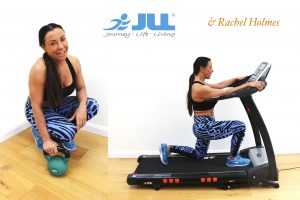 JLL Fitness Ltd® specialise in supplying a great range of high quality treadmills, exercise bikes, cross trainers, yoga accessories, weights and a wide variety of fitness equipment which have been designed and manufactured to the very highest standards.
They supply a wide range of equipment for both home and commercial use with the only the latest technology to ensure the highest quality.  Based in Birmingham, they have an extensive range of fitness equipment  suitable for every user, from fitness novice to professional athlete.
Fitness Presenter Rachel Holmes has teamed up with the brand to provide an ongoing home workout project in which they hope will inspire their followers to work out from home or the gym in new and exciting ways.
The partnership is an exciting opportunity in which Rachel Holmes cannot wait to share: " I love to share my workout routines with followers and fellow fitness professionals; and now I have JLL quality equipment I can provide a more varied range of workouts from gym to home." "The equipment will provide me with the opportunity to share more exciting and new workouts with followers whilst working with a professional brand."
JLL have offered through the partnership a promotional code for Rachel Holmes followers in which they can equip their own gym with the highest quality of product for a reduced price which will be released over the Easter Bank Holiday weekend. (Code available via video)
These workouts will be available at Rachel Holmes Youtube www.youtube.com/rachelholmes and Facebook www.facebook.com/kickstartfatloss
For press enquiries please contact lauren@ksflgroup.com
Posted on