February is a dull month thats for sure- so we are here to brighten up your dishes with the fruit and veg that is in season this month:
PASSION FRUIT
This tropical fruit is great in so many ways; used in early folk medicine in Peru and Brazil to aid sleep.
Make a quick passion fruit sorbet:
2 cups fresh or thawed frozen passion fruit puree
2 tablespoons honey
2 small ripe avocados
1/2 teaspoon Himalayan salt
1 tablespoon freshly squeezed lime juice
DIRECTIONS
In a small saucepan, combine the passion fruit puree and honey. Cook over medium-high heat, stirring, until smooth. Remove from the heat and allow to cool to room temperature.
Cut the avocados in half lengthwise. Remove the pits and scoop the flesh into a blender or food processor. Add the cooled passion fruit mixture and the salt and process until smooth, scraping down the sides of the blender jar or bowl as needed. Add the lime juice and process just until combined. Pour the mixture into a bowl, cover, and refrigerate until cold, about 2 hours.
Freeze and churn in an ice cream maker according to the manufacturer's instructions. For a soft consistency, serve the sorbet right away; for a firmer consistency, transfer it to a container, cover, and allow to harden in the freezer for 2 to 3 hours.
PLUMS
Plums are only around until the end of March and make a great snack.
Make clean eating plum jam:
Ingredients
1 pound of black plums
zest and juice from 1 lemon
1/4 cup raw honey
1/2 tablespoon organic cinnamon
1/2 cup of water.
Instructions
Start by washing the plums. Cut them in half and remove the seed. Then chop the plums into course pieces.
Add plums, honey, cinnamon, water, zest and lemon juice into a medium sauce pan on the stove. Over medium heat bring the ingredients to a simmer.
Reduce heat to low and let simmer for about 30 minutes. Make sure to stir the jam occasionally so it does not burn or stick to the bottom of the pan. The jam should become thick. Transfer to a well sealed container and let thicken for an hour. Refrigerate and serve.
CELERIAC
We love celeriac as a swap for potatoes and it has a beautiful nutty taste!
Check out this great recipe: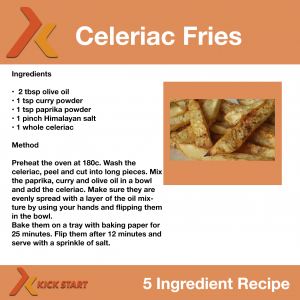 CHICORY
This is a bitter leafy veg and is a great addition to salads!
Simply shred it raw over the top!
TURNIPS
This root veg is related to the radish and has a gorgeous peppery flavour.
Try this great five spice recipe:
4 medium turnips (about 1½ pounds), peeled
1 small butternut squash, peeled and seeded
2 tablespoons extra-virgin olive oil
½ teaspoon salt
¼ teaspoon freshly ground pepper
1 small red onion, halved and sliced
1 teaspoon Chinese five-spice powder (see Tip)
How to:
Position racks in upper and lower thirds of oven; preheat to 450°F.

Slice turnips and squash crosswise into ¾-inch-thick slices. Cut each slice into ¾-inch-wide strips or "sticks." Toss with oil, salt and pepper in a large bowl until well coated. Divide between 2 large rimmed baking sheets and spread into an even layer. (Set the bowl aside.)

Roast the turnips and squash for 10 minutes. Carefully transfer back to the bowl. Gently stir in onion, molasses and five-spice powder to combine. Return the vegetables to the baking sheets; roast, stirring once halfway through and rotating the pans top to bottom and front to back, until tender, 15 to 20 minutes more.
We hope you enjoyed the blog – please share your feedback on our social media!
Posted on