Have the hot sunny days got you reaching for the Ben & Jerrys, Pimms & snacking on Magnums?
Have you skipped your HIIT workout as it's "TOO HOT……!!"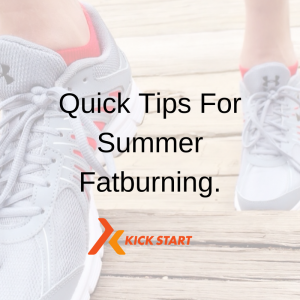 If so don't despair, get straight back on the clean eating wagon!
Here is a quick 10minute HIIT Workout to get your sweating all of those toxins
right out:
Quick Tips For Summer Fatburning.
1: Workout early. Just bite the bullet.
Get up & do it.
Then it's over.
You did it & whatever the day throws at & however hot it get's your sorted.
2: Drink 1 pint of ice cold bottled water right after your workout.
Keep sipping through the day.
3:Take a COLD shower.
Blast the water on the back of your neck for a good 2 minutes.
Cold exposure is great for breaking down brown fat.
4:Cut down your portion sizes
& eat SLOWLY.
5: Do an intermittent fast from when you ate last night.
Leave 16 – 18 hours before meal 1 giving your digestive system a complete
break.
So, If you ate at 8pm last night you will break
your fast at 12 midday. Break your fast with a protein rich meal & load up on your veggies.
Today's Affirmation.
Feeling happy & achieving your goals
is a total inside job & starts with changing
your thinking.
Use a daily affirmation. Plug it into your phone
write it on a post it – stick it on your dashboard.
When embarking on a lifestyle change.
You need to change your thinking…..first.
"The body will go where the mind flows"
Look into the mirror everyday & remind
yourself what you want from your life.
say it out loud, like you mean it & want it
send it out into the universe & make
a bold statement.
"Today I choose to exercise & eat only healthy nutritious food"
It's that simple.
Make a statement & live by it today.
I ALWAYS LOVE to hear from you!
Love Always Rachel xx
^^^^^^^^^^^^^^^^^^^^^^^^^^^^^^^^^^^^^^^^^^^^^^^
Posted on