WOW we are so proud of our 28 day results coming in from Rachel Holmes Elevate group online!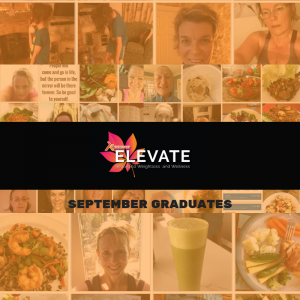 This group has been so driven and the results really show… read more:
Ruth Dollen
3x super sculpt work out no scales but lost 13 inches so pleased can really see big changes in my mindset, body, fitness and sleep 😀
Off for a lunch then long walk in the countryside. Love this programme Rachel Holmes
Now need to tone and maintain for my daughters wedding in August next year in Italy
Emma Brown
Thank you! Hitting Autumn with new vigour all round!
Claire Hilton
2.5 kg off in the past two weeks. Still plenty to go but feeling much fitter, stronger and my mind is definitely clearer. I"m finding that I am dealing with day-day work hassles in a much more balanced and "in control way". Sleep is also a lot better.
Kim Woolf
Sweaty selfie this morning 3 HIIT SESSIONS DONE…Old Skool
2 lift and lean all by 9.30am…
Well my results after 4 weeks…
WEIGHT LOSS-7lb
inch loss
Michaila Hansen
Another 5.5 CMS off. I've measured everywhere and used CMS for a psychological advantage! 29 CMS since the start.
Alison Jenkins
Hi all, been out injured most of the week so experimented on relaxing on the eating front with positive results for me.
Since beginning of September have lost 4lbs and 6 inches.
Frame of mind is good and sleep improved some. Have realised I cant do the exercises everyday as my old beat up body is carrying to many old injuries and getting more as I go on but by substituting spin classes and doing adapted lift lean I can tone up. Goal for this month Is more weight and inch loss and to keep this good frame of mind
Lisa Clifford
Not done photos but have taken today, so I can do next month. I have lost 3kg during the month which is very good for saying I've been on holiday and haven't stuck to it strictly.
Measurements taken ready for a more detailed analysis next month.
Well done everyone x
Kathryn McGeary
Ok so this is actual reverse chronological order (blue shorts was the start). Not a massive difference but then again I don't have a lot of weight / inches to lose. For me this programme is more about establishing habits – I've cancelled my gym membership as I'm in the swing of doing my own thang each morning. I'm wiggling at the weekend and I don't have that sense of food panic so much now as I know that if a wobble away I can always jump straight back in. Def feel less bloated and jeans belt is one notch tighter so everything heading in right direction! Goals for this week – keep on keeping on. Resist the urge to think "there we go I've made it now"'as that inevitably leads to creeping weight gain. I need to be drilled in maintaining these habits for life!!
Wendy Davies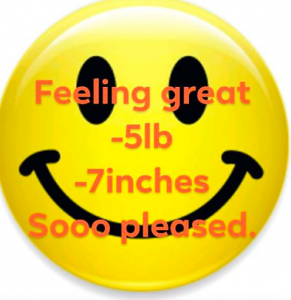 Andrea Gaynor
4 week RESULTS
Weight Loss 9lbs
Inch Loss 5 1/2 inches
My mindset, self confidence and belief, are a lot more positive!
My energy level is good!!
I've upped my weights and have noticed some physical changes in my upper body which I like.
I've got time.. I don't have to achieve everything in 21 days, a month, 6 weeks etc….
It will take as long as it takes!!
Goals for October are to lose a little more on the scales and a few more inches around the midsection….😁
Louise Astbury
I've lost 9 inches & 8lbs since 14/8/18!
I've surpassed my weight goal by 2lbs. No more weight lost this week but I don't think I can or should lose any more. Another 2 inches lost this week. I'd like to trim waist by another inch.
I've felt healthier & happier since starting this programme, my sleep is better & I'm controlling my stress with yoga & Pilates. I know the healthy habits & my pitfalls already BUT the daily coaching has kept me focused. I wouldn't have achieved this without it. Thank you Rachel💗. 
My goals now are:
Maintain weight
Keep good habits & not creep into treating myself because I've had a good days food 
Become more lean – I'd love some definition! 
Feel healthy, energised & able to cope with life's 'downs'
Sami T
My Fitbit tells me I'm sleeping for an average of 50 minutes more since the start of September which is ace.
At the beginning of this I felt horror when I took and looked at my selfie. Now I feel comfortable in my self image.
Emma Brown
So I'm 12lbs down and 10.5 inches.
I'm now where I am comfortable (back to pre summer holiday size!)
I'm more than happy with this, as I have had wiggle room over the last four weeks (and may wiggle a bit more today before hitting the ground running again tomorrow!).
I feel much better on the whole and have more energy.
For October, I'm looking to lose another 7lbs to take me to an 'ideal' place for my body and aiming to get more sleep.
No sweaty selfie this morning as I'm being kind to my body and giving it a day over after a bonkers few days with illness and kids sickness!
Sophie Tallulah Tott
I can't weigh as we have no scales, and I didn't bring a tape measure, but looking at the pics, my body is changing shape! I keep thinking 'oh this must be like a fairground mirror 😆, but actually…
My clothes feel looser
My PMDD was vastly reduced this month (now on my period)
I feel mentally clearer
I feel more energetic
I feel I'm making informed and good decisions about eating (yesterday had a piggie one, mainly coz of booze – and am back on it today!)
I feel more confident 
I feel I'm on my way back to a good place in health and fitness
Yay!!! Thank you Rachel and our lovely Elevate community – I'm about to sign up for the next two months, I feel so positive! I had a tear in my eye re-watching the live this morn – a good tear 😊.
My goals are to continue onward with eating healthily and keeping nutrition and exercise and looking after me at the top of the agenda.
I would like to lose weight and this doesn't seem to be happening although clearly changes are visible – perhaps having got it all in place, now this will start!!
Hard work, being kind and persistence really does pay off, so here's to more greatness over the next two months ❤️❤️❤️
Sarah Lynn
My weight loss for September 8lbs.
I am happier, healthier, have more energy, sleeping better, no longer bloated and feel my confidence might just be coming back, not too mention my love of exercise has returned 👊
At no point have I gone without, thanks to the wiggle room, so again I haven't had any cravings or had the feeling I was depriving myself of anything. 
Going to start with the photos in October so I can witness the changes to me. 
So happy I signed up to Elevate and huge thank you Rachel Holmes and to everyone in this group, I am loving it 😍
Bring on October!
#myvibeishigh
I WILL get back into this dress 👊😊
Helen Brown
OMG!!
Total inches -13.3/4inches
Lbs 5.5
So happy with these but even happier in my mindset,
No
.moodswungs
.brainfog,
.lack of get up n go,
.sleepless nights
.feeling helpless
Hello
,
.energy in abundance
.fitter
.stronger
.happier
.sleep
I think the mind shift into a healthier way of looking at my health overall, has been fantastic, and this has spurred me to keep going.
October- lose 10lb or more, gain more definition, tone up my midsection! For next 7 days 100% focus on all of the above! I dont see huge change in pics … but i definitely feel it !!
Since starting Rachels programme back in July – ive lost a total of 16.5 lbs with a gain, of 2.5 from my hols and two weeks of no loss on scales during elevate! Do chuffed with that, two more months with more oomph, and i could be where in my head i see myself being x Thankyou Rachel Holmes, and all you elevators your support has been immeasurable x
Siobhan Austin
Sorry about the pants! I am 7 pounds and 4 inches down since the 7th September – despite my birthday and several weekends away. I am a stone and 2 pounds down since I started Rachel Holmes' programmes. I sleep like a log. I am dealing with work stress very much better – specifically drinking less. My tummy is much better – not to be too graphic, I used to carry about Imodium all the time. I barely touch it now. Another stone to go, so still working on it.
Jane Ward
I'm not easy with full body photos, but one month in, & a few glasses of red wine to many on some weeks, 🍷😳
I'm 5lb lighter, & 7.5" down.
Bring on October, & lets see what damage can be done… 💪🏻🙌🏻🏻
Well done all you "Elevators." 💚
Adele Rose Stinton
So….. 11lbs weight loss and 7inches off! Very pleased, especially as I have wiggled every weekend. Goals- weight loss! I want to be under this horrible stone I'm on in two weeks for a birthday party so eyes down for two weeks and real focus on weight loss. Well done everyone you've kept me inspired! The biggest success is the mindset change and that is a huge thing for me, looking forward to October. Will post photos later!
Lisa Clifford
A few months back I joined my first lift lean group. I was lucky to have lovely people on the group, like this one. Anyway, to be quick – I had a very stressful job as lawyer and also managed a spa. I always loved animals and my quiet wish was to rescue at least 100 animals before I was 50.
Anyway, with the group, this one and Rachel Holmes support i became focused. I started this project approx 6 months ago.
I am pleased to say that today I made my number! So thank you all – this isn't just a weight loss group but a support network for determined women/men. Good luck to you all in your personal goals.
Hope you enjoy some of my rescue animals photos (couldn't get them all in) 😀
Also I have officially registered my farm with the HMRC so I can develope it further.
Helen Milnes
Just done quick measurements, I'll do pics later. Lost 5 inch and 5lb. My goal weight is 8 stone and today 8.2 so nearly there!!! I've not weighed this since pre kids 8 year ago. I feel so much better, my clothes are actually a bit too loose I'm thinking of having a major wardrobe declutter and treating myself to new stuff so there's no going back!! My goal not only to reach 8 stone and maintain this for Xmas but to try and really tone up so I'm aiming to up my weights again by end of Oct 💪🏻💪🏻 someone at work heard me talking to another colleague about my goals and she said I would never look like I did pre kids so I'm kind of out to prove a point 😄
Think everyone's results are amazing and I need this to keep me motivated and moving on, can't wait for October lift lean 👍🏻
Samantha Crease
Body wise, lost 5cm over the 4 weeks, lost 8lb but my main goal when I signed up to this was to beat post natal depression and in the last four weeks I have only had a few crap days so that is GREAT! More work still needed and time to increase my confidence as this has dropped massively since having a child. Onwards and upwards! Cheers Rachel
Sylvia Carey
4 week outcome.
4 inches dissolved
8 & 1/4 lb less
Next 4 week would like to be close to 10 1/2 st. And more inch loss.
I'm very pleased with result after living it up for almost two weeks. 😍.
Back to foods on the list & water back up.
Tracy Wroe
Pleased with the 10 3/4" loss. My main focus was to increase my fitness level/more toned. I'm definitely happier and would say 90% of the time my self-confidence is back up. So goal setting wow it's tough setting 10 😳
✅ water keep to 2 litres or more
✅exercise every day (tough when it's dark)
✅do my ironing
✅Read a book on train each day
✅ more confidence to gallop when horse riding
✅Delegate at work
✅10 minutes dog training each evening
✅rooms ready before Thursday for w'end visitors 
✅follow up on structural work for flat 
✅bed before 10pm
Angie Pawson-Harris
So after a fab day out with the hubby at the football game, on the scales I go! Goal was 2lb actual loss 21/2, two happy bunnies in my house this afternoon – his team won the match!
So since the start of Elevate I am 71/2 lbs lighter 5" smaller. Really pleased with that. I feel leaner, more focused & energised & much happier about myself. Plus If that wasn't enough motivation, I now have a trip to Australia to work towards!
Posted on