Lindsay's Elevate group (Kick Start Warlingham) are half way through October and the results so far are fantastic, read some of the great feedback from her team: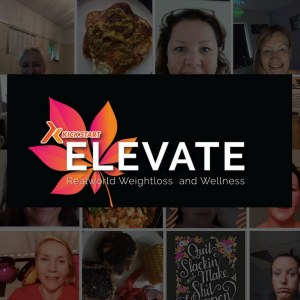 Louise King 
So 4 weeks done and here are my results:
6lb lost (goal was 7lb but happily take 6 and working on the 7th this week!)
Lost:4.5cm from my waist, 2cm from my hips, 2cm from my arms and 3.5cm from my legs.(approximately the loss was uneven between right and left!)
I've really enjoyed this programme, having done the 4 week lift lean in Jan which was really quite strict with the food and intense with the daily workouts I've actually seen better results this time around. I like having a choice of workouts as if I'm not keen on doing one 2/3 times through I just pick an alternative to make up the time. Like you Malinda I found it difficult to keep up with the workouts every day what with two young kids and work 4 days a week. I didn't beat myself up if I didn't do it this time though as I knew that if I got to class a couple of times a week and kept on top of the eating I could at the very least maintain the weight.
Tracking with my fitness pal wasn't really for me but I definitely did better when journaling.
Mixing my breakfasts up throughout the week as well as throwing in the odd fast has definitely worked so I intend to keep that up. I no longer snack in the morning or evening but still struggle with the mid afternoon slump!
I certainly eat more at certain times of the month, so just need to make sure I reign it in!
I know that clean eating makes me feel more awake and alert, today I'm tired and have a headache because I ate chocolate yesterday. If only it didn't taste so good! Well done everyone and thanks as always to Lindsay for the encouragement Xx
Denise Campbell
Hi Lindsay, the Elevate program has been a hit for me. I've enjoyed the different options each week. Wednesday nights class was a challenge but a good one. I also liked the daily choice of online exercises. Results for me were 3kg weight & 4.5 ins loss.
I'm ready for my trip to Australia to visit my son . Sorry but won't be back to class till November
Thanks again Lindsay for your encouragement, endless energy & support xx
Malinda Young
Morning all. I didn't do my results until today as I was away at my brother's over the weekend. Here are the answers to your questions Lindsay Williams:
* What were your measurements ? Scale and or inch loss before & after
I lost 2lb in weight and 5.5 inches in total. I'm really pleased with the inch loss but was hoping for a few more pounds to have gone! However I'm pleased because it's still a loss.
Do your clothes feel looser?
A little but I'm going to carry on so hopefully I'm a few more weeks they'll be looser!
What have you found the most challenging?
Fitting in the exercise around my daughters, especially the almost 3 year old. She's been joining in/getting in the way! Also with having a young baby and still doing night feeds, I haven't been able to join in with the sleeping part of Elevate.
Do you feel clearer and more alert?
Yes! Especially after exercise.
Do you feel more confident & more in control of your eating habits?
Yes and far more determined to keep it going. I had gestational diabetes in both pregnancies, so I'm high risk to develop type 2 at some point during the rest of my life. I'm not going to let this happen so Elevate/Lindsay has helped get my mindset on track for this. Having 'wiggle room' and not beating myself up about it is such a positive thing- allowing myself this has actually meant I've got back on track again much quicker than I would usually.
What worked best for you. The habit based approach or tracking & were you able to work out which style of eating worked best for you?
Tracking works for me so I'll continue. It sounds silly but having a calorie deficit explained clearly, and knowing how many calories I need by using that calculation, I feel I can work to this. It's common sense that if you eat less calories, you will lose weight but for some reason how it was explained on the programme made more sense to me than ever before!
Keto style works best for me I think and also the fasting. Also knowing that maintaining is still progress is soooooo useful! That article you sent was brilliant.
were you able to keep up with all the workouts? Or too much choice perhaps?
I did the workouts most days or went for a run. I don't have all the equipment so had to improvise on occasions or use the non equipment links but I didn't mind doing this. Loved the old aerobics sessions!
Did you find the daily coaching useful?
I could only watch these on catch up, sometimes not until later in the day so I don't think these were as useful for me as they were for others. However it was good to watch to hear answers to questions or for clarification of things.
So overall, I feel that the biggest impact has been with my mindset and determination. I feel ready to come back to classes more regularly (where I can around family life) and I loved the Wednesday evening classes.
Thank you for everything Lindsay. It's been great to be part of TBF again and I'm looking forward to being back at classes. Xx
Jayne Williams 
No scale weight change for me
but a few inches gone.
I'm completely ok with that, mindset was my priority this time, weight loss will follow in time I'm sure ..
I love my fitness pal and will keep it up mon-fri, the daily coaching from Lindsay was invaluable and set me up for the day in the right mindset.
I wasn't fab at the daily workouts but did add more daily walks in, regular daily small changes is the way forward for me
Loved having a different theme each week too
The most challenging for me was to eat varied meals and to post in the group..
Thanks so much Lindsay, looking forward to the November Elevate
Nicola Blenheim 
My measurements and weight stayed the same, however, overall I feel less bloated and more toned and my clothes feel looser. I didn't really want to lose too much weight, just tone up and I feel that I have achieved this. I also feel that my digestion problems are more under control now I eat cleaner and I think I have a better understanding on the food that triggers my ibs cramps.
The thing that I found the most challenging was the no snacking rule. I am a grazer and rather have smaller meals but eat more often. However, I feel that this programme has changed my mind-set, especially in the snacks that I choose. I have made energy balls from scratch so I know what goes in them and just have 1-2 per day.
I feel much more in control of my eating habits. Before this programme, every Monday I felt I always had to "start again" for the week after an inevitable blow out. Now I know, I can have that wiggle room at weekends with a few deficit days/intermittent fast and still be in control.
I loved the daily bite size exercise programmes and although I didn't exercise every day I averaged 4-5 times a week and was generally more active. I have also found I can lift heavier weights now. I would like to keep the weight training up
The daily coaching was really useful and motivating esp. with answering specific questions and it made it more personable with Lindsey talking about her own routine and challenges.
The programme also made me think about my wider health including sleep and how important it is to health.
Thank you Lindsay Williams for your dedication and support to getting us back on track! I look forward to jumping back on in November 🙂
Paula Trainer
Total inch loss in 28 days 13.5"
Total weight loss 0kg
My clothes feel loser and fit much better. I'm gutted I didn't see any weight loss in this 4 weeks. I know I should use my fitness pal to track properly but I know it wouldn't be good for me mentally so I've stayed away from it, instead I've manually tracked. I've suited the 3 balanced meals approach with 2 or 3 15 hour intermittent fasts per week.
I haven't been able to do the daily workouts in the morning. I'm up so early already that it's not feasable to get up earlier. So I've done them as soon as I get home. I found the workouts good, some I found to have too much equipment so I felt you lost time because of the equipment change. I think if there is going to a lots of equipment used then the workout needs to be 15min not 7mim. I struggled with the yoga, having never done it before. I was worried about getting to move wrong & hurting myself so I did it once but didn't do it again.
I'm definitely more alert & my energy levels have improved. My sleep as also improved.
I found the daily coaching really useful. Maybe 7am is too early for some. It was okay for me as I'm at work by 7, but maybe 7.30am better. I definitely think mornings are better.
I've booked on the November course so my goal is to continue with food food protocol that works best for me, along with tracking my inch loss. I've decided not to track my weight as it's left me really disappointed each week.
Thanks for your support Lindsay Williams
#stillmotivated
Joanna Soltu
So excited as I approach the end of the programme. Have lost 4lbs and although I didn't take accurate body measurements at any point during the programme, I know I have lost mass as I can now fit into clothing that I couldn't before!
I'm feeling a lot fitter and more energetic and I am determined to keep up the regular exercise. Have also bought myself several keto recipe books to ensure I stay focused and motivated to keep going as I am loving the variety and naturalness of the food. Thanks Lindsay x
Well done to Lindsay and the team keep up the good work!
Posted on