A BIG well done to
Andrea Gaynor
another newly Qualified online fitness, health, wellness and weight loss coach with Kick Start!!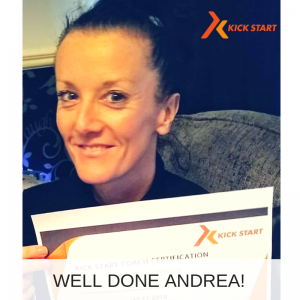 Andrea has been one of our followers for a while now and she is a fantastically driven and positive individual- we can't wait to see what she achieves with her new business
👏
👏
👏
👏
=============================
Kick Start Online Coach Certification 2019
Education and Business Training For Forward Thinking Fitness Professionals Who Want To Offer Online Kick Start Programmes. (fully online training)
==Do you want to offer real-world nutrition, weight loss and wellness programmes around your existing classes and online?
Do you want to offer online weight loss programme using social media and the internet?
Use the Kick Start pre-made programmes so you can sell them right away online using social media.
Learn how to create a healthy balanced nutrition programme for weight loss, wellbeing and wellness, using evidence-based principals and research.
Understand the latest in women's health and lifestyle issues including Stress, Sleep, Hormones, Menopause, Exercise, Mental Cognition, Nutrition, Mindset and how you can help your clients on a deeper level.
Business Building – How to create, set up, market your online program using the latest social media methods, systems and strategies.
Social Media – Create a social media buzz using the most relevant social media platforms. Understand what is working now and how to spend your time wisely on the platforms giving you the most return.
Gain complete access to successful Kick Start online programmes that you can use right away and build on for your clients including:
All of of the daily videos, materials, graphics, workouts everything you need to start right away offering your online programmes.
==Here are the programmes you get access to right away:
You can use them as they are or learn from them and create your own version.
Kick Start SPRINTER 7 Day SPRINTER * Best Selling Programme*
Kick Start SPRINTER 14 DAY SPRINTER 14 daily videos, 14 daily workouts, graphics, shopping lists, menus, do's and dont'ss, promotional materials and social media guidance.
Kick Start 7 day LIFT LEAN EXPRESS and the 5:2 DIET- Lift Lean is an amazing concept and is working so well online. Gain access to the 7 Day EXPRESS.
Kick Start 7 Day Mid Section Meltdown – A brilliant 7 day daily weightlosss with 7 workouts concentrating on the midsection * This was a best selling programme.
Posted on