Add your email for up to the minute info on KSFL diet & detox, Juicing,
Fatloss tips, Home Workouts,
Positive Self
Love, Affirmations & Happy Lifestyle
Updates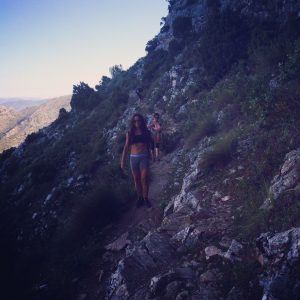 Happy Easter Monday!
I hope you are having the most blissed-out
Easter bank holiday. EVER.
Spending it with all of your lovely friends
& family, enjoying Easter roasts
& chocolate eggs.
My friend Jayne & I hiked up
a mountain in Spain & had an
Electronic Muscle Stimulation
Personal Training session.
This involved having an electric shock
direct to our muscles. It was THE most
bizarre way I have every trained….
Very different & unique!
This weekend did YOU get to do
what YOU really wanted to do?
Or did the old People Pleaser come
back into play?
It's so easy to put EVERYONES
wishes, wants & needs before your own.
Toe the line. Just say yes. Don't rock the boat.
Don't live YOUR life for anyone else.
If YOU keep saying Yes to everyone else
then you disconnect from your own feelings,
desires & goals.
YOU feel out of sorts. Disorientated.
Out of balance. Helpless even?
Time passes by so quickly & YOU
realise you haven't achieved all
the things YOU need to do, because you are
too busy saying YES to everyone else.
Today do something YOU really want to do.
Get motivated & make a plan.
When you go to bed tonight, you will think.
YEP!!!
I did…….xyz
Being & doing YOU Is perfect food for your soul.
Better than any Easter Egg.
Be in love with YOUR life today.
Today's affirmation:
"Today I am in love with my life"
Are you a people pleaser?
What are you going to do today to please YOU?
Tweet me @RachelHolmes
I would SO love to hear from you today.
Have THE best day ever.
Love always
Rachel xxx
Watch out for my new  FREE 30 Day Challenges coming up
#30daysofmeditation #30daysofPMA
Have you booked onto my MAKE IT HAPPEN DAY
I've now moved the into a larger room as the demand
is so high so I can now fit in more people.
If you would like to attend on 10th May.
Here are all of the details
http://www.choreographytogo.com/workshop-booking/create-your-online-fitness-business-seminar-with-rachel-holmes/
Eaten to much Chocci this weekend?
You can jump onto any of my KSFL anytime
detox programmes
7 Day Special Event
14 Day Shred
21 Day Detox
All of the info & booking can be found on
https://www.kickstartfatloss.net/
Add your email for up to the minute info on KSFL diet & detox, Juicing,
Fatloss tips, Home Workouts,
Positive Self
Love, Affirmations & Happy Lifestyle
Updates
Posted on