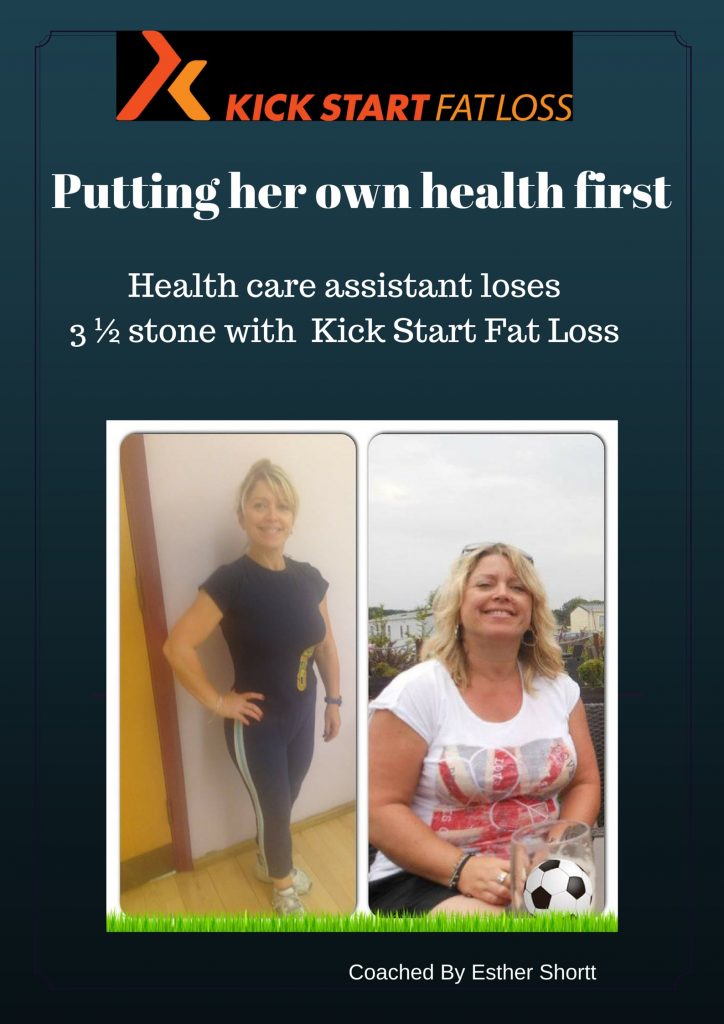 Slimming clubs, cabbage soup detox, egg and grapefruit diet, slimming pills – just some of the many diets tried and tested by London based and Health Care Assistant Victoria Brodie-Smith.
At the start of her weight loss journey Victoria weighed 12 stone 8lbs. Wishing to put a stop to her 'serial dieting' and a solution to her sugar addiction, Victoria joined Kick Start Fat Loss (KSFL) Mill Hill and Barnet – ran by franchisee Esther Shortt. The Kick Start Fat Loss plan is not a diet but a happy  healthy lifestyle that  champions the idea of clean eating  and consuming food in its most natural state, or as close to it as possible.
Whilst preciously Victoria's diet was heavy on sugar and carbohydrates, she was now eating nutrient rich foods such as scrambled egg with smoked salmon, tomato and spinach for breakfast, a big salad for lunch and meat/fish and vegetables for dinner. Victoria quotes 'I love the simplicity of it and the way it keeps me full.  I was always known in the past for being hungry all the time.  I now know that that was the sugar in all the diet foods I ate.'
By combining healthy home cooked meals and regular exercise including Kettlebells and Zumba, Victoria saw a steady weight loss of 3 ½ stone over a 9 month period. Victoria feels great and quotes 'I am more confident, have more energy, I don't get out of breath any more and I know I look nice in clothes now.'
A key factor in Victoria's weight loss success as has been both the one to one support from her coach Esther and online via the Kick Start Fat Loss Facebook page. 'All the members post pictures of their meals and give advice where needed. 'It's a great way to source ideas and the support has been invaluable.'  – says Victoria.
Victoria's advice for those wishing to break free from of dieting
'Go back to basics, forget processed food or anything that has been through a process.  Stick with food that is in its most natural state.  If you can't grow it or rear it, then don't eat it.'
For all information on Kick Start Fat Loss visit www.kickstartfatloss.net
Posted on