I know I do especially when I smell freshly baked bread,
there is something about a lush sandwich
packed with chicken & salad….so
Why don't you make your own bread?
It really is much easier than you think and if you have
got the kids off school this week why don't you all get involved.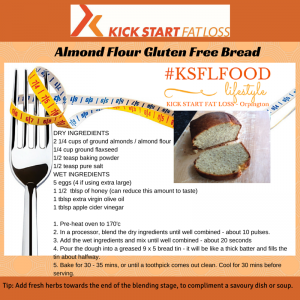 This recipe is gluten free and totally healthy,
and as ever so easy to make.
If you struggle with American cup sizes, google it or
get baking cups from Amazon and B & M Bargains/TK Maxx etc
I also have to say a huge "Thank you" to everyone that emailed me over the weekend
regarding SLEEP it is such a biggy and my Magnesium will be available in the next few days.
Have a great Tuesday !!
******************************************
WE are looking for new Kick Start Franchisees and Business Owners
around the UK
North East
Scotland
Wales
Yorkshire
London
South West
Add your email for more information
https://kickstartfatloss.co/kick-start-fatloss
Posted on