Meet Clive of KSFL Northwich who originally joined KSFL for the 28 day online programme with his wife prepared to give it a real go. 28 days on he looks amazing and now feels in full control of his diet.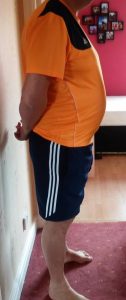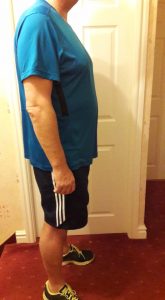 Here's Clive's testimonial for the Kick Start Fat Loss programme:
"At the outset I was carrying too much weight and struggling to reduce this despite attending 2 exercise classes per week. I was 'comfort' eating in the morning, afternoon and evening as I felt that my blood sugars were dipping and I had to eat to sustain them at a normal level. I was drinking too much alcohol at the weekend – none during the week, but excessive at weekend. Time for change!
My wife and I reviewed the Kick Start Fat Loss diet and wondered whether this would be advantageous. I was prepared to give it a go and try to make a difference in my eating (and drinking habits). Our thoughts were initially to embark on the 28 day programme and try cutting out bread and wheat, gluten, dairy products (except milk in tea), caffeine, alcohol and make a conscious effort to reduce the sugar intake (in cereals, sauces, processed foods).
We worked hard at choosing menu's from the Kick Start menu booklet and spent extra time in buying, preparing and cooking the meals. They were tasty!
I thought I would have struggled to stop drinking alcohol and thought I would have needed additional 'snacks' to supplement my diet – this was not the case.
I weighed myself at the start of each 7th day on the programme and measured my body (chest, belly, waist, leg, arm). I started to feel and see the benefit – my weight genuinely started to fall, the inches reduced and I actually felt better for it.
I extended the initial 4 weeks on the programme to 6 before re-introducing some of the items I had removed from my diet. I have re-introduced alcohol but I am making a more conscious effort to reduce the intake at the weekend.
I have drunk a lot more water than I had previously.
I am now 10 weeks on and extremely pleased with the result to date, having lost over 2 stone in weight (30 lbs). I now have a different problem – my clothes are too big! I have punched additional holes into all my trouser belts, but some trousers are simply too big and baggy to wear.
What's next? I plan to continue being careful with what I eat and drink. I am enjoying the food that we cook and I am amazed that I enjoy the food tastes without the need for the good old bottle of HP Sauce. I will continue to plan to eat 'cleanly' in the run up to Christmas although I intend to enjoy mince pies and mulled wine and the usual Christmas Fare
Its fair to say that we do spend longer preparing food – I get up earlier in the morning to ensure I have a decent breakfast but this does sustain me until lunchtime without the need for the mid-morning comfort eat. That said, its worth it as I have achieved a significant benefit to date. My blood sugars do not appear to spike and fall as they did previously so the new diet is sustaining me to avoid the snacks, and my weight and size is reducing.
Food preparation is getting easier as we gain experience with making meals from this programme.
I have attached a couple of photo's – I think its obvious the Before and Now!!!"
Thanks to Clive for sharing your story!
Find a live KSFL class near you CLICK HERE
KSFL is a lifestyle not just a faddy diet. Learn to take control of your nutrition and health for good through online and live classes all over the UK, Ireland and Gibraltar.
Posted on