The Elevate online weight loss and wellness team are doing amazing so far and we can't wait to share some of these great updates with you: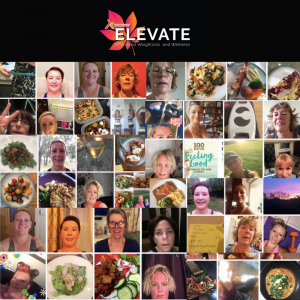 "Ok, I'm very excited I've now just purchased a size 20 jeans. For me who was a 22-24 this is such an achievement.
I'm one who starts diets and never finishes."
Claire:
"1kg down this week. Love the rapid fat loss as the IF suits my working pattern.
Have really tried to focus on sleep this week which has made a huge difference."
Louise:
"2 legs 1 core. Goals this week:
1. Prep meals
2. 54321 UP!!!!
3. No bingeing at weekend. Allow 1 treat & STOP!
4. Start big work project & aim to complete 1 section by Friday"
Sandra:
"So last week I lost 1kg and 2 CMS from my belly. Belly is the area of focus still as not as toned as I would like."
Judith:
"Just did a quick calculation of my steps/mileage I've done at work this week!
Steps 112,618
Miles 41.3
Sarah:
"So happy! 5lbs off this week so that is a total of one stone since starting in September and 20 1/2" gone! I feel so motivated and love this group so much, it's been such a help the support is amazing, thank you Rachel and ladies. Now to lose the inches to get me back in a size 12, my weight goal is in the bin as it was another three stone but my body has changed shape so much I am not sure I actually need to lose that much anymore. Liking my muscles that are starting to show 💪"
Angie:
"I cannot quite believe it, but after 5 days of rapid fat loss week I have lost 7LBS!! I actually got on the scales 3 times because I thought it must be a mistake!"
Posted on