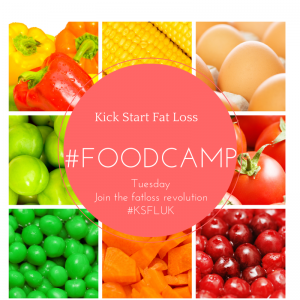 #FOODCAMP Tuesday

Thanks for all the comments about
yesterdays #FOODCAMP
It's great to hear from you!
So, here is another #FOODCAMP #KSFLUK
8 Top KSFL Fatloss Tips
1: Have you tried fasting?
Research shows that fasting for 17 – 22 hours from your
evening meal until your next meal, really allows the body
to dig into the fat stores & gives the digestive system a break.
E.g You ate Monday night at 7pm your next meal will be
12 Midday on Tuesday. The meal you break your fast with.
2: Ditch the dairy and eat green veg at every meal
You will get plenty of calcium & fantastic nutrients
providing you load up on veg.
PLUS awesome for fatloss.
3: Counting calories/points is NOT essential for fatloss.
Balancing your hormones IS crucial. Stabilising
cortisol & insulin levels is key. Eat clean foods
that minimise the secretion of fat storing hormones.
4: I say this everday but the biggest mistake anyone
can make is starting the day with box cereal – of ANY
description.
ALL contain hidden sugar.
ALL will keep your fat storing hormones doing overtime.
ALL will eventually lead to fat gain.
5: EGGS are wonderfood.
Eat plenty for fatloss.
6: Tap water is not great for fatloss.
Use bottled or filtered.
Shoot for 2/3 litres a day.
7: Carbs are NOT the enemy.
Eat good carbs like
Sweet potatoes, brown rice, root vegetables.
Eat smaller amounts & time these to be consumed
right after training or earlier in the day.
8: SCALES Are for fish.
Take weekly photos from all
angles.
Take your measurements & understand it really
is not about what the scales say with a Fatloss nutrition
plan.
Achieving the health & fitness  you really want is so close.
The updated nutrition and information is here.
But, If you feel the whole Kick Start Fat Loss system
seems so radical to you then make a few changes each week.
Ideas –  Switch to a lunch style breakfast 3 x per week.
Cut down on your daily coffee & switch to Almond milk.
Got to eating 3 meals a day no snacking. Stop eating
so much fruit & eat more veg.
These are really easy ideas to start with and build up gradually.
You will witness an amazing shift in your health, fitness
& well-being.
YOU CAN do it & I am happy to help!
Have a wonderful Tuesday
Much Love Always
Rachel xx
PS:
Come and Say Hi on Twitter @RachelHolmes
Facebook/KickStartFatLoss
Look out for my new Spreecast TV show coming
on Wednesday and LIve Twitter Chats.
My Next LIVE KSFL Online detox starts
Tuesday 6th May Bookings start at the end of the week.
Add your email for up to the minute info on KSFL diet & detox, Juicing,
Fatloss tips, Home Workouts,
Positive Self
Love, Affirmations & Happy Lifestyle
Updates
Posted on