Join my FREE 7 DAY HOME HIIT Workout Challenge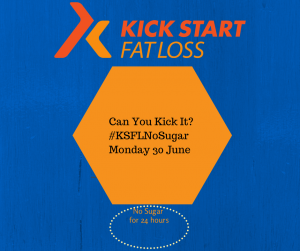 ARE YOU IN?
Join my KSFL NO Sugar Monday Challenge
Here are the rules for today's challenge:
1. No sweets, cakes, pastries or obvious sugars!
2. No PROCESSED FOOD – no packets, crisps,
jars or ready meals!
3. NO ALCOHOL! No fizzy drinks …just water,
fruit teas, redbush tea, hot water & lemon or lime.
Ideally no coffee!
4. No fruit, dried fruit or cereal bars OR CEREAL!
All high in sugar.
Breakfast can be eggs, or porridge, natural full fat yoghurt
(CHECK NO FLAVOURS OR ADDITIVES)
5. NO BREAD, POTATOES, PASTA or WHITE,
HIGH SUGAR CARBS!
Please EAT the following:
1. Substantial protein rich meals:
3 x a day – they will fill you up & take
the edge off the cravings!
Eggs for breakfast will fill you up till lunchtime.
2. Loads of veg – LOADS!
A variety of colours for essential vitamins & nutrients.
Lots of fibre and goodness
3. Big portion of chicken, fish or other proteins with each meal.
Eat until you are satisfied … no need to count calories.
4. Remember your good fats – use coconut oil to cook with,
5. Butternut squash is fantastic
for potato substitute – can be mashed, roasted or chipped!
6. If eating starchy carbs, go for the brown,
wild or basmati rice, or sweet potato.
I'm posting loads of ideas on my
Facebook.com/KickStartFatLoss
Page, Twitter @RachelHolmes @KSFLUK & Instagram
RachelLHolmes KickStartFatLoss
Please stop by & say HI!
EASY? Maybe not!!!!
Just wait & see just how much sugar has taken over your diet!
Please share with your pals, friends, clients, customers
EVERYONE
I look forward to seeing how you get on –
please post on here how you are getting on …will check in later X
BIG LOVE
Rachel Tweet me @RachelHolmes use #KSFLNOSUGAR
Big Thanks to Fran Flin – KSFL Franchisee Business Owner
Posted on