It is the time again to ask our Wellness Stars the question of the week!
Once a week we ask our knowledgable Kick Start Franchisees a health and nutrition related question and share their answers with you!
This week's question:
"For all the mums here on the group what are your  thoughts on healthy baby and toddler food?"
Keeley Davis KSFL HQ
Quickness is crucial and new Mums, I don't think, are healthy they are too tired generally to be thinking about healthiness moreover quick grab something to eat whilst baby naps!
Michelle Jermy KSFL Thetford
With babies, the only time I would use a jar is when going out rest of time batch cooking.
For the new Mums the quick recipes and high energy needs. No matter how hard you try sometimes eating at regular times does not happen. I remember having to eat salad salad salad as I had to eat while breast feeding. I recall dropping food all over!
Heather Pring KSFL West Somerset
Whilst breast feeding I used to eat clean flapjacks… they kept me going.
I was lucky enough to have someone do a batch load of cooking for the freezer to get me through those first few weeks.
As for baby food I used the Ella brand and then used to copy the ingredients and make my own once I knew they like it rather than spend time cooking if and then they not liking it .
I know a lot more now and I admit I used yoghurt a lot if I had my time again I would not feed my baby them.
Danni Evans KSFL Ellesmere
I made homemade puree of everything!! When i'd had the babies that's when I had time – frozen in ice cube trays – easy and quick! We did do jars etc too – bit of a balance
Sarah-Jane Walls KSFL Scotland
You mean for the kids? Honestly I never touched them as full of rubbish. I just made my own for the little ones.
Francesca Flin KSFL Orpington
My daughter is a young mum, used Ella's kitchen, but generally did as much puree-ing as she could! Now she does mostly healthy but does let him have small amounts of sweet bits and bobs & crisps. Usually dried fruit and those organix things.
Amber Rich KSFL Pembrokeshire
I did lots of mixed veg and fruit juices.. soups and made our own yogurt … Bea is lactose intolerant now .. so if any one has any ideas for puddings as she loved her yogurt would be great.. she loves the coconut one but its very expensive.. all I can find is soya products!
Thank you to our Kick Start Franchisees!
Why not try our Juices and Treats for Kids RECIPE BOOK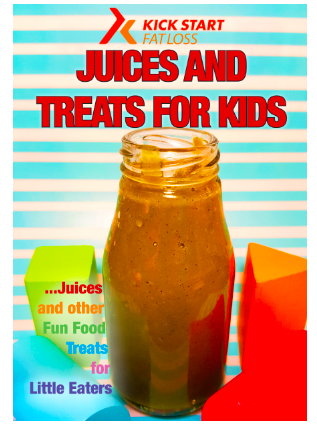 Posted on