Joanne KSFL Lowestoft has nearly hit her 5 stone weight loss mark and we are so excited to share her inspiring story and interview with you: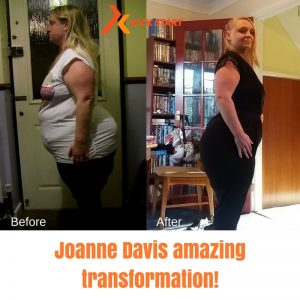 "Hi my name is Joanne Davis i was one of the KSFL Lowestoft group, i started back in January i was so angry with myself as when i first weighed in i was so shocked on how much i weighted. I was 16-04 so i knew i had to change, and after my first week of detox i lost 10lbs and then every week i went i was losing more i felt great in myself and now im nearly at my 5 stone mark even though i don't do ksfl live classes now i still follow the diet and i go gym 2 times a week and aquacise on a wednesday i wish to thank Helen for all her support and i am in contact with her if i feel like im struggling."
Read the interview here:
What was your favourite meal on KSFL?
My favourite meal was and is still my chicken curry.
What did you miss eating on KSFL?
Chocolate
Did you feel any changes to your health?
Yea when i first started at ksfl i used to pass out quite alot but i have found that now i've lost nearly 5 stone my passing out has happened less since.
Did your family join you too?
My hubby sort of did diet wise and we started to lose abit of weight by not eating bread and eating what i did.
What are your goals going forward?
I want to get to my ideal weight for my height which is about 8 and a half stone to 9 so got abit to go but im so confident that i can do that.
What is your top tip to anyone embarking on the programme?
Oh definitely do it because it does work- just have to look at other peoples pictures to see that- i would say if you want to lose the weight and maintain it then KSFL is the way to go with great support is there all the time.
A massive well done Joanne we can't wait to hear how you get on with your continued goal!
Find a live KSFL class near you CLICK HERE
Join our online Elite 35 team CLICK HERE
Posted on