7 Ways To Get Off Sugar AND Lose Body Fat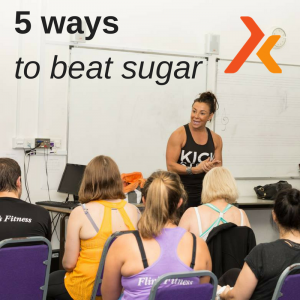 1: Start the day with a workout – Heres
one of my favorites it's called the Ab Ladder.
2: Eat a protein rich lunch style breakfast.
Cut cereals out all all costs.
3: Eat only 3 meals & load
up on green veggies.
4.Give fruit a miss for a week but
again EAT LOADS OF VEGGIE.
5:Drink tons of bottled water & fruit teas.
6:No snacking.
7: BOOZE – Its the weekend so having
a drink may be on your agenda.
Remember ALL alcohol is sugar in
various forms – Go easy!
Come on.
You can do this.
If you need some motivation hop over to
the Facebook.com/KickStartFatLoss page
or @KSFLUK and @RachelHolmes on Twitter
Make a commitment & stick to it
just take it day by day or even hour by hour.
As Gabby B says
"Honour your commitments & show up for yourself & the world"
Be the very best version of YOU!
Do check in with me I love to hear from you
@RachelHolmes
Have a wicked day x
Posted on