Trial The 7 Day Midsection Meltdown Online Women's Weightloss And Wellness Programme For only £15
Hello Try the new look, updated Kick Start Online On-demand programmes TODAY.
Start whenever you are ready at this super discounted price.
I want to help as many women as possible to trial this 7-day programme and get great results. See how you can take your weight loss and wellness into your own hands.
*Are you struggling with your midsection?
* Feeling fed up of not getting the results you want from your diet and exercise programme?

*Unexplained weight gain around your middle?

*Feeling bloated and puffy?
*Struggling with perimenopause, menopause or post?
Do you need a daily plan to get you back on track?
Try the Kick Start 7 Day Midsection Meltdown Online On-Demand Programme and start right away or Monday or whenever you are ready. You get access to the FULL 7 DAY PROGRAMME to work through.
What do you get when you sign up?
*A daily nutritional video explaining exactly what to eat, how and why.
*A daily midsection 10 – 20 minute home workout.
*Daily coaching videos and support.
*Shopping list, meal plans, recipes and food ideas.
A full online on demand 7-day programme designed for you to Kick Start Your health, wellness and wellbeing.
CLICK HERE TO GET THIS FULL PROGRAMME FOR ONLY £15
You can do this!
Kind Regards
Rachel x
Kick Start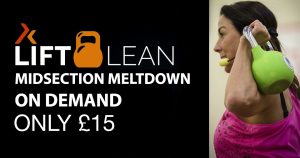 Click here for the KSFL Coach Online Business 
Posted on