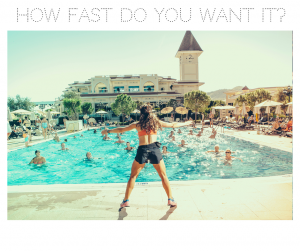 The Magic Bullet…..
In 2014 we want everything quick.
Quick Quick Quick
Fast Fatloss
Fast Food
Fast 30min HIIT workouts
Fit by Friday
"Just give me the facts fast Rach so I can
lose weight/be thinner/be fitter/fit more
into my day/be more productive,create
a new business…..NOW"
Everyone wants it NOW & So quick.
Fast emails that can be read in seconds.
"So, How do you lose weight. I want to be thin
for my holidays next week"
Yep. I get that question every single day.
"How do i get toned & more muscle
But, I don't get time to go to the gym……"
The answer is never an instant,
just – add – water
type of fix.
Inevitably, the actual
truth is you've been chipping
away for a long time.
Having an energetic, healthy, fit
body takes a
daily commitment.
Want great Abs? Eat clean 95% of the time.
Want to attract more positivity, clarity & be happy?
Practice daily meditation.
Want a banging successful business?
Work your ass off, study your craft, be creative,
become tech savvy, make smart, informed decisions.
All of the things we really desire take
time, tenacity
& patience.
They don't happen by magic or a super
uber quick time (Sadly)
Its the daily rituals.
The constant chipping away.
The regular small steps forward.
That get you there in the end.
Happy Chipping!  There's nothing more
exciting than the climb…..edging closer
day by day, week by week, month
by month to THAT goal.
Keep going. It's coming right up.
Have a wonderful Friday
Love ya
Please Tweet me @RachelHolmes
I'm in my office all day today
writing, filming & chipping away
so please give me a shout out/
I love to hear from you on Twitter.
XXXXXXXXXXXXXXXXXXXXXXXXXXXXXXXXXXXXXX
To Join my Business Academy Newsletter
& to get a free video tutorial from me
about starting your online business
click here
XXXXXXXXXXXXXXXXXXXXXXXXXXXXXXXXXXXXXXX
To book onto the KS Extreme Workshop
Events in October/November
in Southampton, Derby, London,Edinburgh
Birmingham
Add your email for up to the minute info on KSFL diet & detox, Juicing,
Fatloss tips, Home Workouts,
Positive Self
Love, Affirmations & Happy Lifestyle
Updates
Posted on