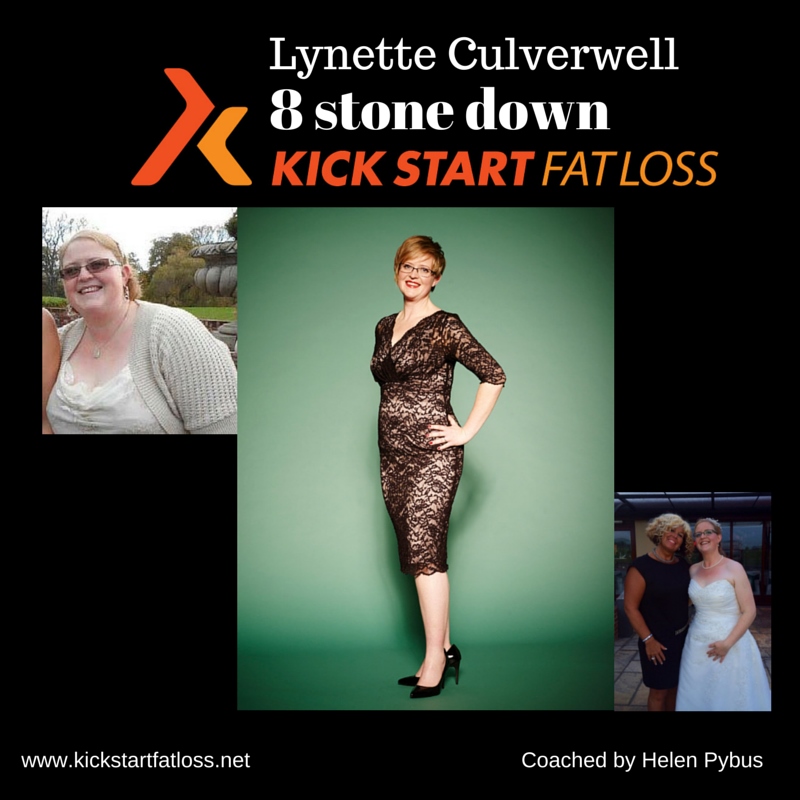 22 months ago you would of found an unhappy and unfit 18 stone 7lb Lynette Culverwell. The mum of one from Lowestoft had spent countless years calorie counting and  following low fat diets in an attempt to lose weight.
Whilst attending a Kick Start Fat Loss (KSFL) open evening, Lynette heard from founder and creator Rachel Holmes and was introduced to a completely new way of eating that focused on nutrition and not obsessive calorie counting. Kick Start Fat Loss (KSFL) encourages people to focus on the foods you eat, the source it comes from and the way it makes you feel. It's a complete lifestyle change which works on building healthier relationships with food so that you stop "Dieting" and start living.
Prior to Kick Start Fat Loss (KSFL) Lynette's daily food intake would typically be nothing for breakfast, cheese sandwiches and crisps for lunch and sausage casserole with Yorkshire pudding and mash for dinner. Since Joining KSFL Lynette has learnt to enjoy eating again – she quotes "I love cooking all of my meals from scratch knowing I am eating clean, nutritious food. I have a local veg box delivered on a Friday and I then do my grocery shopping on a Saturday based around the contents of my veg box.  My husband and I both work full-time and bring up our son so life is hectic but KSFL is just part of it."
Typical meals now include bacon and spinach omelette with a green juice for breakfast, homemade soup for lunch and salmon and steak with vegetables for dinner.
Lynette has waved good bye to the emotional eating which once saw her snacking daily on chocolate, biscuits and sugar – "I loved comfort food. If I was upset about something I would eat large sharing size bars/bags of chocolate & crisps to make me feel better and thought nothing about eating a whole tub of Ben n Jerry's all to myself." Lynette now eats guilt free as she knows the food she consumes is helping her to become slimmer, healthier and stronger. Before Kick Start Fat Loss, Lynette would have dismissed the idea of joining an exercise class due to low self esteem and embarrassment. KSFL has now given Lynette that confidence and she now trains at the gym and participates in exercise classes including Pilates, Boxfit and HIIT.
Family outings were once a time of embarrassment because Lynette's weight and size had meant she was limited to what she could do. As a result she would often miss out on the fun and volunteer to stay with the bags and buggy instead. Lynette quotes "I was petrified of queuing only to get to the front and not be able to fit into the car/harness. Having just returned from Disneyland Paris I can proudly confirm that I went on everything and had no such fears!
On Valentine's Day 2014 Lynette's husband proposed and 4 months later they were married. Lynette had now lost an incredible 6 stone and felt like a princess. Her weight loss meant t she had to have 11 inches off her wedding dress.
Lynette has now lost an amazing 8 stone and looks and feels incredible. She credits her success to KSFL and the knowledge and tools it has given her to make the right choices about the foods you eat.  "The group offers amazing support and have been like a family to me. I have met some amazing people and made new friendships. Helen Pybus has been an inspirational mentor and my journey wouldn't have been possible without her." – says Lynette.
Lynette is excited about the future and wants others to feel as good as she does. Her advice – "try Kick Start Fat Loss as there is nothing else out there like it. You will be amazed with the results you get. It's given me my life back and I can run around with my son and shop in 'normal' clothes shops. I don't have to pretend to be happy anymore. I am happy".
Posted on