This is a fantastic story from KSFL member Michael Dale with Sindy Matthew KSFL Banbury. The before and after pictures show just how hard he has worked to get where he is and he couldn't be happier with the results:
My name is Michael Dale and I have been a Kick Start Fat Loss member for just over a year. I have previously blogged about Sindy and my experience at KSFL so I'm not going to cover the same ground. I'm here with a brief before and after blog to show where I've got to so far in my journey.
The photos below were taken exactly a year apart, in the same setting, with the same clothes, so you've got the best chance of seeing what changes really took place. Firstly I'll fess up and admit the trousers were actually my wife's exercise kit. I'm not normally into wearing my wife's clothes (though she has stolen one or two jumpers from me), but I needed something tight and I wasn't the type to wear tight fitting clothes. Another confession is that I could have taken the after pictures way back in June and they would look exactly the same. I have maintained the same weight since July, never having realised quite how successful and effective following KSFL would be in weight loss, and finding a point at that stage where I was happy to introduce more food into my daily diet.
I was nervous about taking the after shots, and nervous about sharing them alongside the before, because let's face it, they're hardly glamour shots! But I think with anything that purports to give results, or change lives, you need real world examples to help. I also know that when I look at the average before and after pictures, they are sad and dowdy in the first, and well-lit and smiling in the second,so we can't do a true comparison! Once I knew I was on to a good thing, I knew I had to stand in the same place, wear the same clothes and see what had changed.
I have to say, I had kind of been putting it off, and the anniversary was a reason to force myself to do it. In my mind, despite knowing I had gone from a waist that was approaching 34″ to a 28″ and gone from medium tops to XXS, there was this irrational fear that photos would reveal it was all a sham, that I still had that paunch. It just goes to show how we can become unhealthily obsessed with 'perfection'. In my mind I thought I should look like a pro-athlete before I took the second set of photos. We don't really know what 'average' people look like any more, because clothes cover us, and what we see are media images of toned, honed celebs, with great make-up, lighting, and so on!
It was daft to think I had to compete with what I saw on TV, and I knew it all along. I have been on, and will continue to be on an amazing journey that has seen increased energy, a new found love of exercise, and the ability and desire to wear tight clothing. I bought a pair of skinny jeans for goodness sake! And I happily wear XXS t-shirts! I love clothes shopping now, because I have a size that will work across all shops and designs. Before trousers, jeans, and tops would all vary in how they looked on me, and there was no consistency on the size. Once upon a time I may have felt shy that I was going for the smaller size, but now I'm proud that I'm the size nature intended!
Best of all, I feel like I have hit the point where I have reset my physical template, so to speak, and what happens next is entirely in my hands. I still follow the KSFL food lifestyle, allowing myself to eat more than before, all clean of course, with the occasional guilt free non-KSFL meal or cake. I'm a guy, so sure I want to build up my upper strength, that's pretty normal I reckon. I'm using a 16kg kettlebell and have done for several months, so I know I'm ready to step up and try a 20kg, so that's step one. Beyond that, I have increased fitness and strength, which brings with it increased confidence to try tougher challenges, so I'll just have to see. I'll certainly stick with KSFL, and see what the next year brings me. I'm certainly not willing to go back to my old lifestyle of watching fit people on TV and wishing it were me.
Here are the pictures. Am I happy with the changes? Of course! It's amazing, dramatic and these pictures only show half the story. Clearly I have become more toned, and I now have 'apples', as the wife calls my biceps. Maybe by next year I'll be brave enough to take the top off…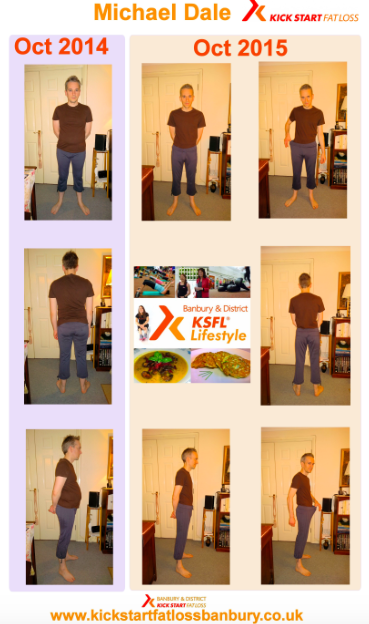 A big thank you  and well done to Michael for sharing his FANTASTIC transformation story!
This could be you! To take that first step sign up to our FREE NEWSLETTER for tips, workouts and recipes from KSFL!
Posted on