It can be hard to eat out with friends/ family when embarking on your KSFL lifestyle. Most restaurants don't tell you exactly what is in their ingredients so you don't know what you are eating!
I have done a little research on a few restaurants so when you go out you know what you can eat. I still suggest you don't eat out often as it is always better making your food from scratch, but hopefully this will save you in those social situations!
Make sure in each dish you ask for no sauce, if there are potatoes swap them for sweet potatoes or salad, no dressing. It might also be worth asking what they are cooking in and seeing if they can cook it in extra virgin olive oil/coconut oil.
WATCH OUT for added sugars and sneaky ingredients.
There is lots of choice you would be surprised…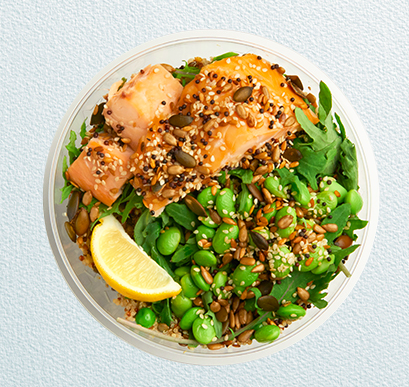 Frankie and Bennys
Ask for the Gluten free menu
Warm chicken and gem lettuce wraps (starter)
Blackened salmon Nizza salad
Steak and salad
Rosemary lamb shank (ask for sweet potatoes/ salad instead of potatoes)
Oven baked salmon
Nandos
Chicken: 1/4 chicken leg, 1/2 or 1/4 chicken breast, 5 chicken wings, 4 chicken drumsticks, whole chicken or chicken butterfly.
Steak without the wrap
Quinoa salad
Mediterranean salad
Mixed leaf salad
Sides: 1/2 avocado, mixed leaf salad, don't go for corn on the cob or chargrilled veg too much sugar!
Pizza Express
Ask for the gluten free menu
Broccolini minus the cheese (side)
Nicoise salad without bread sticks
Melanzane al forgo (italian aubergine) minus cheese
Pianta no cheese pizza
Superfood salad
Pollo salad minus bread sticks
Harvester
Skinny half rotisserie chicken minus honey glaze
Salsa chicken and pepper stack minus fries and sour cream dip
Simple grilled chicken with salad instead of mash
Gammon steak and salad
Steaks with salad
Salmon fillet no glaze and salad
Sides: Buttered green beans, Sweet potato fries, Salad- stay away from sauces
Wetherspoons
Salmon salad
Gammon eggs and salad
Salmon fillet with salad
Skinny rump/Sirloin steak
Tandoori chicken skewers with salad
Side veg
Carrot and coriander soup
Tomato and basil soup
Cafe Rouge
Mussels
Prawns without the baguette
Olives
Tomato and harissa soup minus the bread
Steaks with house salad and no sauce
Lamb shank with salad
Duck leg swap chips for salad
Demi poulet half chicken
Steamed sea bass
Chicken salad
Tuna salad
Sides: French beans, Spinach, Green salad, Tomato and red onion salad, House salad, Leeks,
Pret
Beets squash and feta superbowl- no sauce
Italian chicken salad no sauce or cheese
Chicken and avocado Super Bowl minus sauce
Crayfish and avocado no bread/dressing
Egg and avocado protein pot
Egg and spinach protein pot
Salmon and baby kale Super Bowl no dressing
Smoked salmon and egg protein pot
Tuna nicoise salad no dressing
Beef bone broth from grass fed meat
No cream, cream of chicken soup
Lemon chicken soup
Pea and mint soup
Super tomato
Tuscan bean soup
Have this with a black organic filter coffee!
As far as drinks go, you are best to stick to water with a slice of lemon or an organic black coffee.
Some KSFL club leaders around the UK have had a restaurant set up to serve KSFL food so it is worth asking to see if there is one near you!
Find your local KSFL club leader here
I hope you have found this helpful!
Posted on