Jayne lost 23 pounds in five weeks on the KSFL elimination programme with Kick Start Huddersfield and looks FANTASTIC!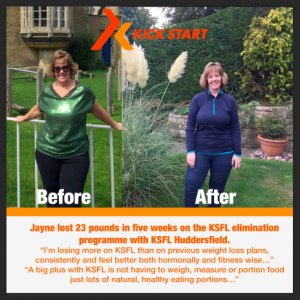 The Kick Start Elimination plan guides you through on a more gentle route… you will still get the results you want but this plan helps you get to grips with each change before moving to the next
"I'm losing more on KSFL than on previous weight loss plans, consistently and feel better both hormonally and fitness wise…" Jayne said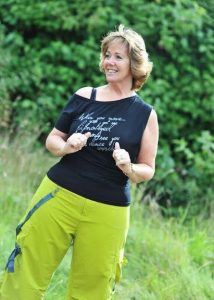 We don't believe in faddy food diets, it is all about good food cooked from scratch and is great for the whole family.
"A big plus with KSFL is not having to weigh, measure or portion food just lots of natural, healthy eating portions…"
The exercise is simple and for all levels with guidance and group support to get you where you want to be physically and mentally. See your health niggles disappear and your skin glow as your body detoxifies!
For more information find out what a KSFL live class is all about HERE
Well done to Anne and the team of KSFL Huddersfield!
Posted on