Kick Start Fat Loss is a fast growing community of wellness, fitness and weight loss clubs created by Rachel Holmes; Fitness Presenter of 30 years. The club has seen some fantastic results with more opening all over the UK, Ireland and Gibraltar every month.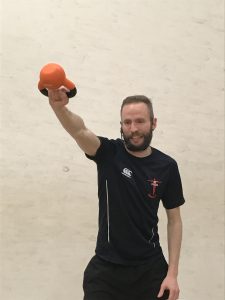 The newest Franchisee to join is James Robertson, a Group Exercise Instructor and Personal Trainer who has been teaching a range of classes including Studio Cycling, Boxercise and Kettlercise in Oxford for 8 years.
James is a driven individual looking forward to helping others transform their health;
"Over the years my aim has been to improve people's lifestyle as well as acheiveing their fitness goals. Working with clients to improve their nutritional choices and positive mindset." Said James.
After meeting Rachel, he knew that KSFL was the programme he wanted to offer his clients:
"I met Rachel few years ago while she was delivering courses in Oxford, and feel she has similar views toward fitness and approach when working with clients to achieve their fitness results…. I am looking forward to getting started with KSFL to continue helping improve people lifestyles, and working alongside a great team of people with the same goals, and a history of achieving excellent results for their members."
This is an exciting time for the Franchise with new 12 week programmes launching in the live clubs as well as a new website on it's way. James is certainly joining at a busy time and will have some great opportunities at his finger tips. We look forward to launching the new KSFL Oxford Club very soon and wish James the best of luck.
For press enquiries please contact lauren@ksflgroup.com
Posted on