Kick Start Warlingham Total Body Fitness With Lindsay just finished their LIFT LEAN course with fantastic results!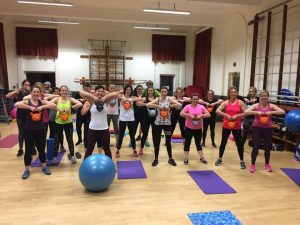 The feedback has been wonderful- read more from the members here:
LYNN YOUNAN
So the end of a fantastic lift/lean. I'm feeling much stronger leaner and fitter and the icing on the cake is that I have lost 7kg (1 stone 1lb) in weight and 10.5 inches. I wasn't expecting weight loss like that. I usually lose 7-8lbs on Bootcamp but for the first time I have taken part in the intermittent fasting 3 times per week and it has made all the difference. Thank you Lindsay Williams for the constant support, nagging to go heavier with weights and motivation that you give to us all! Looking forward to lift/lean classes. Xx
NICOLA MUSK
Bit embarrassing to share something like this but here goes… Thank you Lindsay Williams and the #liftlean team, this programme has been amazing and just what I needed to get going in the new year! I've really enjoyed the workouts and am very happy with the results (as you can see from my cheesy grin!) 😆 This course hasn't just helped me physically but mentally too; sometimes I struggle to stay motivated with exercise and can spiral down, but the short workouts, weekly class, group support and nutritional advice were all brilliant and perfect for keeping me going throughout! It's introduced some healthy habits into my diet/daily routine which aren't ridiculously extreme and so will definitely be sustainable going forward. Me and Simon have enjoyed doing this course together and we'll keep it up until the next programme in March
Claudie Mortreuil
will certainly continue the weights at home and I now take my friends at work through a circuit every Wednesday with dumbbells, kettle bell and the rest. Even my hubby has started using the weights at home and the family is loving the new range of food. So I'm going to continue on the changed nutrition although as it's my birthday soon I will not deny myself the treats. I see the Lift Lean as a very long term endeavour. thank you Lindsay for kick starting my January
PAULA TRAINOR
What an amazing programme. Having done 2 x KSFL programmes previously, Ive now nailed the nutrition side of things. I've always enjoyed doing weights so when LIFT 🏋️‍♂️LEAN was launched I knew I would enjoy it and it would add huge benefits to my running.
I didn't take pictures this time round, but I can see more definition around my shoulders & biceps 💪 and my legs are leaner, my backside is pert. I certainly feel stronger and it has improved my running and technique.
I lost 8.5 inches in total & 2.5kg.
Lindsay is a great coach, but on a personal level she has been super motivating for me over the last 14 months when I needed it the most, Lindsay, you were instrumental in bringing me back from a dark place. Thank you for everything. I also need to say thank you to The Boy, who has been super encouraging through everything, including my KSFL journey which started last January. Knowing how important it is to me he decided to take part in the Lift Lean programme. It's been great having a training buddy at home. Finally, thank you to all of you. You have all done amazing & boosted motivation levels when needed.
My promise to myself;
Continue to eat clean
Using the videos over the last 28 days, I will create my own workouts and train a minimum of 3 x per week
I will continue to put my health first 
I will continue to be the best version of me.
I would highly recommend anyone to take part in any of the programmes offered by Lindsay. I have already booked onto the next Lift Lean course commencing April.
The last 28 days in pictures
#liftlean #KSFL #totalbodyfitness4u 🏋️‍♂️
PHEADRA RUNACRES
I decided to do Lift & Lean as I was interested in doing/learning a new format of exercise and also I felt it was important to work on increasing my strength and bone density and to help fight against osteoporosis which is common for women entering the menopause. I really enjoyed the home workouts and the weekly class. After 4 weeks I feel stronger, leaner and more toned and I also think my bottom has lifted! I have also increased my dumb bells from 4kg to 5kg and my kettle bell from 10kg to 12kg. I will try my best to carry on with the workouts at home, certainly on the days I am not doing a TBF class. I have the equipment so no excuse really! Thank you Lindsay and everyone on the programme for your support and encouragement. I will certainly recommend this programme to others and look forward to a regular Lift & Lean class on the TBF timetable.
I've never done weights in my life, I took up lift & lean because I wanted to get stronger for my running, I'm doing the brutal Selsdon half marathon in March & the only way for me to get faster is to get stronger & do it safely, so I was gutted when I put my back out & then picked up a virus 😒 When a couple of weeks went by I was tempted to give up, but I'm so glad I didn't,
Thanks to Vida Cannon & the wonderful Holly at TLC I was able to join back in on the Wednesday classes & continue my running. I couldn't keep up with you guys, on the daily workouts but Friday I bought my barbell set & worked out with a friend using Day 5 I've been saving the videos! & will carry on doing a couple week so I'll be stronger & able to join the March lift & lean!
As ever I've loved the food, the camaraderie, hints, tips, laughs & Lindsay Williams care and tailored encouragement.
Setbacks are all a part of life & this one has seen me come through stronger in every way.
Thank you all & good luck
ANNE FLEMMING
Hi Lindsay
I have really enjoyed the lift and lean program. I've lost 3kg and 5cm over the course of the 4 weeks. The workouts were really good although I found the ones where she did the full workout much better and more motivating. I feel much stronger and fitter after the program and definitely leaner. The main reason I wanted to do lift and lean was to strengthen my upper body as my shoulders are quite weak ( I have a slight left sided scoliosis) and I often experience lots of aches and pains in my shoulders and upper arms so I am quite reluctant to increase my weights. With lift and lean and doing the workouts every day I could gradually increase weights over the 4 weeks.
The diet was good too. I struggled with the initial detox week and had bad headaches for the first 4 days which I hadn't experienced before with bootcamp. It could also have been that I wasn't getting much sleep as my 2 year old decided that was the week to start getting up in the night again! I was a bit worried about fasting. I have never left the house without breakfast before! With the first fast I struggled to get through 18 hours and found it really hard to concentrate. The second one was easier and I started to feel the benefits. I quite like doing them now so it is something I will keep doing twice a week.
Thanks again for running a great program. I will probably do it again at some point
Thanks
Anne
ZOE SHERWELL
My quick testimonial for you for the Lift Lean course.
I found the classes and the workouts really enjoyable. Often i incorporated the exercises from the workout videos in to sessions I did at the gym, rather than doing them as home workouts. The Saturday morning classes were a lot of fun and hard work as well, possibly made harder by my decision to attend the 0830 morning class before hand for three of the weeks as well. Di did a great job on the final Saturday session as well, it was tough!
I really enjoyed the meals and different food ideas. I didn't participate in the intermittent fasting routine, it's just not something i've felt like trying as yet although I do understand the benefits and will probably have a go at this one day. I ate pretty clean the whole time, avoided all alcohol etc. and likely set new records for the amount of green vegetables eaten at some meals.
Re: results – here are the highlights:
– Total of 4.5 pounds lost (about 2kg)
– Lost just shy of 3 inches total (about 7cm) – including 3cm off my chest and 1.5cm off my waist.
– Also smashed some new personal bests at the gym – 110kg on the leg press, 30kg on the bench press, and 24kg on the shoulder press using 2 x 12kg dumb bells.
I'd be interested in attending a weekly Lift Lean class if it appears in the schedule to compliment the HIIT and other strength conditioning training I currently do.
Overall, I would recommend to others to try the programme if they want to mix up their training which relies too much on cardio. Also proves yet again that just because you lift weights it doesn't mean you're suddenly going to bulk up over a month or so. Would advise some newbies to consider buying two sets of kettlebells because with exercises like the deadlifts and upright rows you can lift more than you can for the ab exercises and kettlebell swings – but that depends on how much money you have to spend obviously and the struggle of carrying so much weight to each class. And finally, for those not wanting to buy a barbell but wanting to do weighted squats, one tip i'd recommend to others is using a sturdy backpack stuffed with towels at the bottom and a kettlebell near the top of the bag so the weight sits across the upper back rather than hanging too low – just an idea
LOUISE KING
So I rounded the 4 weeks off with a SPA day yesterday and a full body massage went down a treat!! I even did a kettlebell and weights workout in the gym beforehand 💪🏻.
I'm pleased to say I've lost 5.5lbs and 12cm. 5cm was from my hips which was where I expanded after having my second baby, so changing the type of workout I do has definitely helped me! I now fit into almost all of my work clothes ready to go back after maternity leave next week. Thanks Lindsay Williams and everyone at TBF! Xx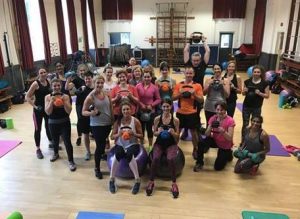 Well done to the team in Warlingham!
Posted on