Hello!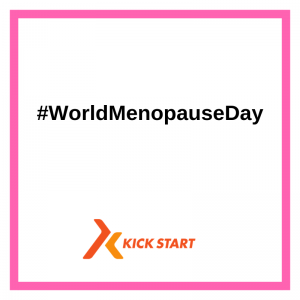 Firstly, this is just amazing that more women are now asking for help and talking about all things menopause related.
We HAVE to have these conversations.
We can't let bright, happy, productive women fall through this menopause hole into feeling so crap.
Knowledge is key and there are new studies and evidence finally coming through that can be life-changing for so many.
It's baffling to why in 2018 Menopause is rarely talked about in the media or on TV ****and it appears not to affect celebrities**** – as none of them talk about it (apart from Carol Vorderman) Where is Madonna and JLO, Cher and Susan Sarandon and Meryl Streep when we need them?? – how wonderful it would be if any uber famous women would talk about their experiences – I suppose we will have to wait until Kim Kardashian goes through it as I am sure she will see the huge GAIN she would get when she does.
I wonder why that is?
Is there STILL such a stigma attached to women being 40 or 50 or 60?
Society is ageing down.
Think of your parents and your grandparents at the age you are now and they would of seemed so much older.
Social media and the internet is keeping us younger.
Life expectancy is so much longer and we all still (good health permitting) have decades and decades left in front of us and achieve all of the things………
But for many the horrific symptoms of menopause are destroying the quality of life.
Weight gain, Night sweats, mood swings – crying one minute wanted to kill the next, brainfog, forgetfulness, memory loss, no sex drive, skin and hair problems, lack of motivation, lack of energy and just generally feeling like…. is this it?
Let's use the end of the year to get YOU back and not the old you a new BETTER YOU!.
The one thing to realise is to take your time, tackle one thing at a time and remember progress is not linear – some days, and weeks will be going totally in the right direction and other days you'll feel like you are going backwards. Fast.
That is definitely going to happen. 1000%.
5 steps forward. 7 steps back. Its part of the process.
Menopause Manifesto 
1: NO matter how many symptoms and issues you have going on, tackle one thing at a time. What is the big thing that needs to improve right away?
If weight gain and midsection weight gain is really getting you down. Start with a plan for weight loss/fatloss. Get a handle on your food, drop some body fat and that will do no end for your motivation, confidence and self-esteem.
Even if you are eating all "the right things" but not losing you need to do some tracking. WE always underestimate what we actually eat and you might be eating many more calories than you are burning. For weight loss there HAS to be energy balance and a calorie deficit no matter how good the food quality.
2: SLEEP
Such a massive one. When your sleep is chronically bad it has a huge knock on. Your hormones are affected, your appetite and cravings are affected, your moods are affected. EVERYTHING.
Try supplementing with Magnesium. Its a game changer for so many people.
Just remember to take IT!
500mg per day and you will see huge benefits.
3: Sugar and Booze.
We all know this. Cut them out for a month and see how your health and symptoms improve.
Your hot flushes will calm down, Your sleep will improve, Your midsectionand inflammation will diminish. What about going for sober October and ditching the booze for a month?
4: Exercise – Are you suffering with joint pain, injuries?
Is HIIIT too much?
Weight training and strength training is a GAME CHANGER. Try a daily 10 – 15 minutes of home strength training and see huge benefits.
Your body shape will change quickly, strengthen your bones and muscles, improve skin texture, improve your mood and mental focus.
5: Depression and Mood.
Feeling low?
You are NOT on your own.
It IS a chemical / hormonal imbalance. It WILL pass and you will feel better when you start to work on your lifestyle habits.
Self care – walking in nature, hobbies, have you got things weighing on you mind you need to deal with?
Work on small daily self-care habits like 15 minutes of daily exercise, 15 minutes of walking outdoors, 10 minutes of alone time. 10 minutes of listening to a podcast or audiobook, lunch with a friend, coffee with a family member….nothing big or grandiose, small 10/15 minute chunks of daily self care.
Self care doesn't mean a trip to the spa. It means small daily chunks of YOU time.
If stressful issues are weighing on your mind then…..
By the end of the year – deal with those issues.
Have those conversations.
Ditch the toxic relationships or at least move away from them and spend LESS of your precious time on these people or situations.
**IF you work on your sleep.
**Address your nutrition
** Get daily exercise even if its a walk and get your 10k steps in
Your mood will improve will 1000%.
6: Eat Your GREENS
You can never eat enough greens or drink enough water. If you find it hard to ear all your greens juice them.
7:STRESS
What's stressing you?
All of the above?
Let's make an action plan or timetable to address your stressors. Take baby steps every day to lower cortisol.
8: MEDICATIONS
All meds have side effects – gut issues/brain fog / addiction/ personality changes. We are NOT against meds but ensuring you are taking the correct meds at the correct dosage and a plan to come off or lower does asap.
Do your due diligence.
Do your research about ALL drugs you are prescribed.
Research – Do your research on bioidentical hormones.
Get your hormones checked.
You may need to pay for a private test and find out your levels.
Are you struggling – Id love to hear from you?
I created the Kick Start Prime programme exactly for you click here for more info.
The Programme Includes:
Workouts
Weekly Protocol
Educational Videos
Guest Audios and lectures from the top experts in womens wellness.
Who Is Kick Start Prime For?
Women who are struggling with:
Peri Menopause/Menopause and Post Menopause
Night Sweats
Mid Section Weight Gain
Body shape change.
Gut problems/Thyroids/Adrenals
Brain Fog – Low Mood / Depression
Mood Swings – Anger/Sadness/Emotions.
Digestion/IBS/Reflux.
***Instructors who want to give their clients the best and latest information***
 This IS our most comprehensive programme to date. Are you ready for MAJOR CHANGE?
Here Are The Topics:
Phase 1 NEW Nutrition – Kick Start Detox 2018.
*What to eat, how to eat and when to eat.
*How to eat for sustainable fatloss and ultimate health.
*Reduce inflammation, pain, bloating, puffiness, fatigue.
Phase  2 The Accelerated Detox Plan for increased results.
* Hormones.
*Tweak and personalise your plan for week 2.
*Understanding which hormones are fat burning hormones and which are fat storing.
*The effects of Oestrogen and Insulin Resistance
Phase 3 Elimination & Rebalance Plan Introducing new foods into the diet.
* Understanding Metabolism.
*How To Up regulate your metabolism,
*How to Kick starting a sluggish metabolism.
Phase 4 7 Day Sprinter – To accelerate Fatloss
*A unique daily protocol introducing carb cycling, intermittent fasting, and crescendo fasting for enhanced health, fatloss and reduced inflammation.
*How To Bring Down Cortisol,
*Stress & Midsection weight gain,
*Endocrine disrupters -the impact of Environmental Toxins
Phase 5 Super Sprinter
An enhanced version of the Sprinter programme with daily protocols to get you feeling and looking amazing. This is a revolutionary week.
*Supplements
*Should you take supplements
*What supplements and why. *
Everything you need to know about supplements for enhanced health and wellbeing.
Phase 6 The MY FITNESS PAL CHALLENGE Have you plateaued?
*Are you eating in a deficit?
*How TO Smash through a plateau
*Emotional triggers
*Food Behaviour
*Long term adherence.
Phase 7 Kick Start Ketogenic Diet Plan Are you struggling with your gut?
*Gut Health and Brain Health
*Eating to feel good mentally.
* How To stop over eating and mindless eating.
Phase 8 Elimination and Rebalance Plan Fitting Kick Start eating into your lifestyle.
* Eating out.
*Family eating.
*Social events.
*Alcohol
*High On Life
Phase 9 Kick Start Ketogenic Diet Part 2 How to really benefit from the Kick Start Ketogenic diet. *Food and Mood – Eating for happiness, focus and positivity.
*How what you eat affects your mood, thoughts, emotions, positivity and ultimately happiness.
*Brain Health and Clarity.
Phase 10 Continuation And Maintenance Plan AMAZING RESULTS
*Womens Health Talk
*The latest on Peri menopause/menopause
*How to live the Kick Start lifestyle and enjoy life to the full without putting weight back on and understanding how to manipulate your metabolism and hormones going forward.
What happens when you book?
You have access to the whole programme to read, watch and digest – think of this as an educational journey as well as a 5 week plan to improve your wellness.
Posted on