WOW we had to share with you this fantastic write up from Helen on Rachel Holmes' Kick Start Elevate online group: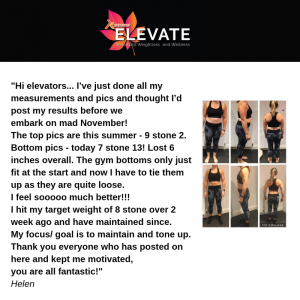 "Hi elevators… I've just done all my measurements and pics and thought I'd post my results before we
embark on mad November!
The top pics are this summer – 9 stone 2.
Bottom pics – today 7 stone 13! Lost 6 inches overall. The gym bottoms only just fit at the start and now I have to tie them up as they are quite loose.
I feel sooooo much better!!!
I hit my target weight of 8 stone over 2 week ago and have maintained since.
My focus/ goal is to maintain and tone up. Thank you everyone who has posted on here and kept me motivated,
you are all fantastic!"
Helen
Thanks for sharing Helen and well done!
Posted on