We are so proud of our Elevate team for completing their 3 month health and wellness transformation online with coach Rachel Holmes

And today we are sharing with you a fantastic interview with Helen who had unbelievable results with us:

1. Write a little bit about you: 
Im Helen aged 53, i foster for my LA, Nuneaton and Bedworth Warwickshire and until An earlier program prior to Elevate id been pretty sedate!
2. How long did you do the Elevate with Rachel Holmes programme?
I did the whole 3 months
3. What made you decided to join the programme?
I needed to regain my fitness and drop weight
4. What were your goals when you started?
Weight loss
5. How did you find the journey?
Pretty good- yes i hit a plateau during the programe but i learnt that was good as previously id have just given up!!
6. How did you find the coaching?
Wow, im in awe of RH, her upbeat warmth and wit were just great, she just 'gets it'
7. Did you feel supported throughout?
God yes !! Not only from RH but everyone on the journey – this group is by far the best- the ladies were/ are just fabulous
8. What was your favourite part?
The workouts were vast, fast and did what theyre aimed to, and the group ohh and RH on the lives, she did them even when she had a flight to catch and a toddler to attend- ohh and not forgetting his guest appearances…
9. Which nutritional protocol worked best for you and why?
IF two- three times a week / and or two meals daily – im not always hungry in the morning, and so these worked best for me- im not into fatty foods but found the odd meal with high fat low carb, suited me and kept me satiated.
10. What were your last results?
11. Will you continue with the nutrition?
Definately As i dont want to slip back toward old habits
12. What changes did you see to your fitness?
Massive changes i workout daily do powerbags and crossfit and love working out – my mental well being is so dependant on my getting my sweat on regularly now.
13. What changes did you see to your wellness/ mental health?
Im so much happier, healthier and relaxed than i was prior to my weightloss
14. What changes did you see to your physical appearance?
I will let my pics answer this question
15. Are you booked on for January?
Yes…. and raring to go too
16. Anything else to add?
Just a huge thankyou to RH for putting Elevate in the map!! Best programme by far xx
---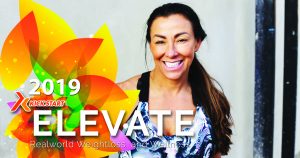 Are you up for the 2019 Challenge?
Whatever your goal be it weight loss/ health / wellness- we can get you there!!
ELEVATE 2019 High Performance Weight loss and Wellness
Enrollment is OPEN Now for January
Starting MONDAY 7TH JANUARY 2019
High-Performance Living – Daily Coaching with Rachel – Working On Your Goals every day – Choice of 3 daily workouts – Mindset coaching and motivation – Powerful Motivation every single day.
Excel in ALL areas of your life – Improve your health – energy – vitality – productivity – body – sleep – emotional health, physical health, intellectual health.  ELEVATE your Mind and Body.
Posted on