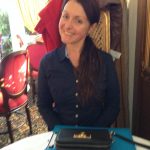 The UK's fastest growing Diet & Fitness Kick Start Fat Loss Club launched in the Republic of Ireland this week in Drogheda with huge interest & uptake.
Rachel Holmes, Creator of Kick Start, and Laura Armarda Buch, Ireland's Business Owner, launched the concept at the LAB Fitness Studios to 30 of Ireland's most prolific Fitness Entrepreneurs, Instructors & Studio owners.
"Kick Start Fat Loss ethos is all about clean eating, cooking from scratch, sourcing local produce, exercising at the right intensity and mindset coaching,"  says Rachel Holmes who created the Programme in 2007.
The concept is delivered in Live groups, Online and via mobile technology by highly qualified and educated Kick Start lifestyle coaches and has totally revolutionised the traditional slimming club scene.
"Kick Start is about empowering our members with the most up to date nutritional and exercise research. There is so much outdated, old skool information in the mainstream media which leads to major confusion for most people, who are bombarded with mixed lifestyle messages on a daily basis."
Kick Start gets jaw dropping results.
Speaking at the launch in Drogheda was Lesley Gooch from Lowestoft.
Lesley has tried every diet going and had seen her size go up to a 30 before joining Kick Start in June 2013.
Through clean eating, cutting out sugar and processed foods Lesley is now a size 14, after losing 70 inches and over 10 stone in weight.  She looks and feels amazing. She attended her weekly Kick Start class and was supported and coached by Helen Pybus, who is the Kick Start Franchisee for the  Lowestoft area.
The success of the Irish launch means there will be 20 brand new Kick Start clubs opening all over Ireland in the following areas in January 2015:
Drogheda
Bray Killarney (Kerry)
Dundalk
Dublin 3 (Clontarf)
Wicklow Town
Castlebar (Mayo)
Belturbet (Cavan)
Portlaoise Blarney
Cork
Ratoath
Navan
Dublin 15
Blandchardstown
Wexford Town
Carlow
There is still time to get on board and get involved in this exciting and progressive business.
For all Ireland enquiries contact Laura Armarda Buch – Laura@LABFITNESS.com
For all UK enquiries contact Rachel Holmes
Rachel@Choreographytogo.com
www.KickStartFatLoss.net
www.KickStartFatloss.ie
Posted on