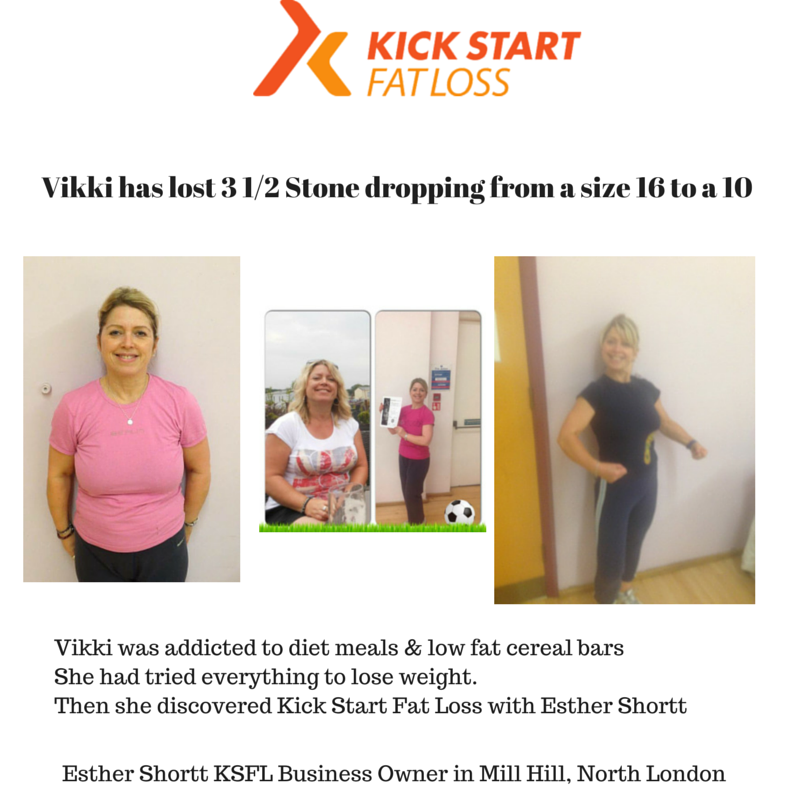 Press Release Vikki Brodie
Vikki Brodie (51) has been trying to lose weight for 15 years, attending various slimming clubs and jumping on every fad diet that came out.
She lived on a concoction of diet food, low fat ready meals snacking and every couple of hours though the day on cereal bars.
The last straw was when her sister asked her if she was pregnant, and breaking a camping chair while on holiday.
"I knew I had to make some drastic changes. My energy was low, I was addicted to sugar and low fat diet food, my weight was out of control and my confidence at rock bottom," says Vikki, who is a Senior Medical Secretary.
"I attended Esther Shortt's Kick Start Fat Loss in Mill Hill, North London as I had previously attended Esther's fitness classes in the past. Esther had raved about Kick Start to me and I knew this was something that made sense, PLUS I was desperate to change and knew low fat diets were not the answer."
Many people think that eating diet food, low fat ready meals and low fat cereal bars are healthy but all are loaded with sugar. The brain forms an addiction to the sugar and constantly craves more.
The more of this type of food you eat the more your body will crave.
Consuming cereal for breakfast elevates the blood sugars and encourages the body to secrete fat storing hormones which is why you experience energy crashes through the day as the body craves more sugary food. These cravings are so powerful you have to consume more of the low fat/sugar food every few hours to keep the cravings at bay. It's a vicious circle.
"I have lost 3 stone 2lb and have gone from a size 16 to a size 10. My advice to others would be that it is worth starting KSFL because the support is tremendous and  the plan is so simple and easy, not complicated at all. Back to basic eating -everything fresh and natural as it should be."
Posted on