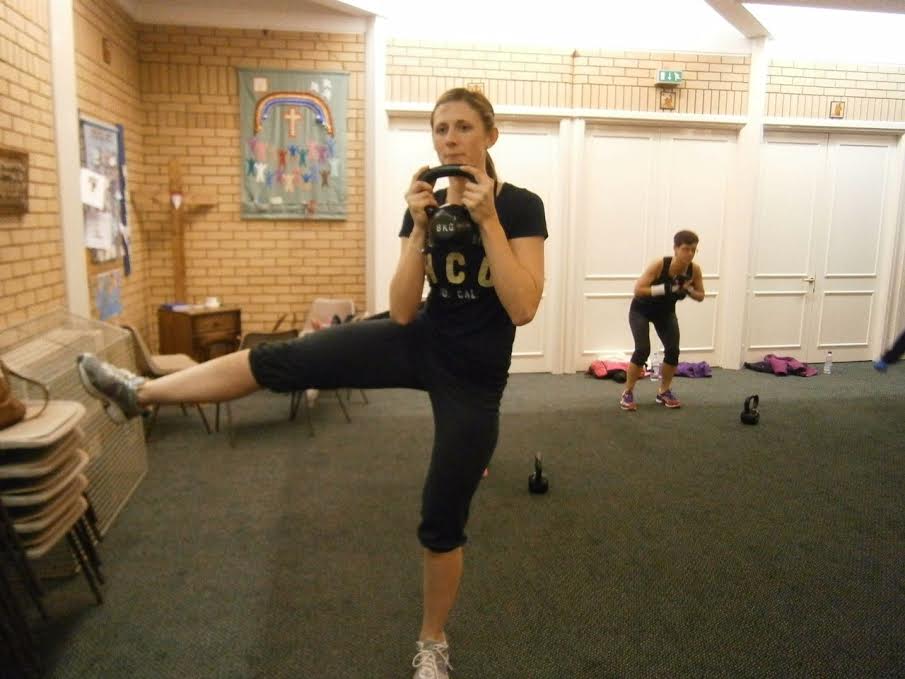 KSFL Improves Type 1 Diabetes for Roxy
Banbury resident and type 1 diabetes sufferer Roxy Hoare was horrified to hear that her Hba1c (an average blood sugar result) had risen from 8.2 to 9.3, during her October (2014) biannual check up. As an average, this was the highest Roxy had ever been and admittedly she quotes – 'I was struggling over the summer with going up and down. I had stopped doing exercise as I just didn't have the motivation'. As a result, the consultant asked to see Roxy in three months time rather than her usual 6 month review. This was a huge wake-up call for Roxy and she knew that something had to change.
Roxy joined Kick Start Fat Loss club (Banbury), lead by Franchisee Sindy Matthews. Roxy explained that her goal was to change the way she ate, get fitter and control her diabetes. She had tried slimming clubs in the past but with little or no avail – 'they just didn't work for me as I was having so many hypo's' (low level of sugar (glucose) in your blood.)
The Kick Start Fat Loss Plan (KSFL) was more than suitable for Roxy's dietary needs and requirements. The plan practices 'eating clean' , at its simplest its about eating whole foods or real foods – those that are un or minimally processed, refined and handled, making them as close to their natural form as possible. Where before Roxy's diet consisted of crisps, cereals and bread, she was now embracing foods like vegetables, fruits, plus healthy proteins and fats. 'I have berries and a banana for breakfast, a morning snack if I'm hungry of snap peas and cherry tomatoes, lunch would be a salad with three hard boiled eggs or an omelette and a banana. Dinner could be homemade burger with green vegetables (kale, green beans, and broccoli) and sweet potato wedges'.
Roxy instantly saw results from following the Plan's nutrition and thirty minutes of exercise a day/ five times a week. This was something that Roxy felt was more than achievable even with her office based environment. 'I make it a priority to get my 30 minutes of exercise in and by doing so I have more energy in a day. This gives me more motivation and the 30 minutes goes so quick. I am less stressed about things if I do a workout'.
Within two and a half months Roxy had lost a stone in weight and got her Hba1c down from 9.3 to 7.6! Her consultant was so happy and impressed that Roxy had managed these results in such a short amount of time. Her cholesterol also decreased to 3.7 from previously 3.9 (in a four month period)  and to date her Hba1c has dropped further and is currently at 7.5.
Roxy credits her health achievements to both the group support in the classes and on social media. She quotes 'there is always someone to talk to. Sindy is brilliant without her support, knowledge and motivation (not just for me but for everyone) I'm not sure I would of stuck at it, she is like the little angel on your shoulder telling you; "you can do it" no matter what your age/size/health problems. It's great to be around positive people and with a great inspirational leader like Sindy Matthews she is always there for each and every one of us. She's not just a "coach" she is a friend.
Roxy's advice for anybody who wants to get healthier and improve the quality of their life:
1.       Take the jump its well worth it. You will find out how mentally strong you are. Even if you have a medical issue such as diabetes it doesn't defy you or control your life – you can control it.
2.       Try just 30 minutes of HIIT (High Intensity Interval Training) – I got physically fit in 3 months from doing this and it's great for those who are limited with time.
3.       Follow the Kick Start Fat Loss Plan – I now love cooking and I always feel full after a meal.
 For more information about Kick Start Fat Loss clubs go to www.kickstartfatloss.net and for more information regarding Diabetes go to www.diabetes.org.uk
Posted on