Hi It's To The Kick Start Wellness Newsletter
Fitness, Wellness, Food, Lifestyle, Mental & Physical Health, Beauty, Longevity, Reverse Aging, Biohacking, Fashion & Fun!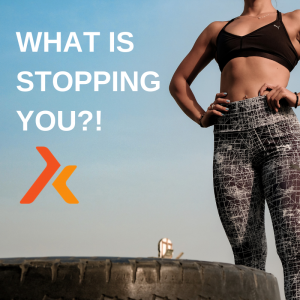 What Are Your Self Limiting Beliefs?
Are you aware of your personal self limiting beliefs  (SLB) and how often during the day do they pop up?
SLB are deeply ingrained into our thought patterns because we repeat them over and over again for decades.
For example
"I'm not thin enough"
"I'm not smart enough"
"I'm not attractive enough"
"I'm not…….. enough"
"I don't know enough"
Blah Blah Blah.
Usually its something around not being enough of something.
We may even have multiple self limiting beliefs that we constantly repeat over and over again.
What does this mean to your life, your life choices, your goals, and your health, fitness, nutritional choices, energy levels?
They have a HUGE impact and if we are not aware of them we stay stuck going round and round in the same cycles.
How many times through the day do you make a choice, or not take up an opportunity, or not fully apply yourself to something like a workout or a project or a nutrition plan……….anything in fact
Because the SLB keep playing in the mind.
"I won't do that because I'm not……… enough"
We often don't even realise we are doing it.
If you are trying to lose weight, get healthy, fitter, hit a work goal, pursue an idea….it doesn't matter what it is, by changing the way you think  and rewiring your brain you will hit those targets faster with AMAZING results.
Quick Exercise – Write down all of your SLB then today as they keep popping up.  Why you do find yourself hearing them DIVERT your mental dialogue and say……….
"NO.
I AM……….. enough and I am going to do this to the very best of my ability"
"I'm going to give this 100%"
Change your mental groove.
We are working hard on this every day in the Elevate programme and it makes a monumental difference.
Have a fantastic MONDAY and Live It FULL OUT.
Love Rachel x
PS I have included a lovely 23 minute Fitness Pilates Workout for you – today.
**Additional Newsletters You May be Interested In**
C2GO Newsletter – Every Thursday for all Fitness Professionals or Aspiring Fitness Professionals. Add your email and get 10% Discount on Courses in 2019 Click here 
Fitness Pilates Newsletter – Every Sunday For ALL Pilates Trained Teachers and Aspiring Pilates Teachers – News, Exercises, Video Workshops, Events, Class Ideas, Marketing and PR. Add your email  Click here 
Fitness Business Builder – For building your class numbers, Social media & Digital Marketing Click here 
You can join Elevate February Online Weightloss and Wellness Programme Click here  starting 4th Feb
Posted on